NEWBURY PARK, Calif. — CyberTouch is pleased to announce the introduction of the OrionAV-P – the latest product line specifically designed to interact seamlessly with the Pioneer(R) DVD-V8000 Professional DVD-Video Player. The direct connection to the Pioneer DVD-V8000 allows interaction with the DVD content or other video sources simply by touching the screen – no need to access the player.
The CyberTouch OrionAV-P product line includes 19-inch, 24-inch, 32-inch and 42-inch (16:9) and 20-inch (4:5) diagonal TouchScreen LCD Monitors. The OrionAV-P is Ideal for training videos, point-of-sale displays, museums, entertainment, digital signage, and hospitality applications.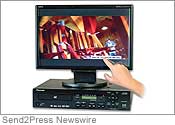 Incorporating reliable and durable 8-wire resistive TouchScreens designed and built by CyberTouch, the OrionAV-P incorporates a touch surface protected by chemical and abrasion resistant polycarbonate overlay. It responds to the touch of a finger, stylus, or a gloved hand. The TouchScreen communicates via RS232 through a 9-pin serial connector at 9600 baud.
For more information about OrionAV-P please visit: http://www.cybertouch.com/orionav.html
And, for more information on Pioneer Professional Video, please visit www.pioneeratwork.com
About CyberTouch
CyberTouch designs, manufactures, and markets specialty TouchScreen monitors and related touch products for the commercial, medical, industrial, aerospace, audio visual, military, and other harsh-environment industries. Since 1982, CyberTouch has manufactured and designed custom TouchScreen monitors and touch products. CyberTouch offers more than 300 standard TouchScreens as well as open-frame and enclosed TouchScreen monitors. CyberTouch is the leading US designer and manufacturer of custom and standard TouchScreens and TouchSystems. OrionAV-P is the latest addition to CyberTouch's family of Orion, Eclipse, and Sola TouchScreen monitors that range in sizes from 6.4-inch to 42-inch diagonal.
For more information please call 805-499-5000 or visit: www.CyberTouch.com/av.html
About Pioneer
Pioneer has been an innovator of optical disc technology since it brought LaserDisc, the precursor to DVD, to market in 1980. Pioneer went on to introduce the first DVD writer for computer use in 1997, the first DVD recorder as a VCR replacement in 1999, the first DVD/CD writer for home computer users in 2001 and the first Blu-ray Disc writer in 2006. Pioneer Corporation is one of the Blu-ray Disc founders.
Pioneer's Home Entertainment and Business Solutions Group develops high definition home theater equipment for sports and entertainment junkies. Its flat panel televisions, Blu-ray Disc players, A/V receivers and speakers heighten the emotions created by great HD content. The company brands include Pioneer(R) and Elite(R). When purchased from an authorized retailer, consumers receive a limited warranty for one year with Pioneer products and two years with Elite products. More details can be located at www.pioneeratwork.com.
Pioneer is a registered trademark of Pioneer Corporation.
Blu-ray Disc is a registered trademark of Sony Corporation.
[tags]CyberTouch OrionAV-P, LCD touchpanel display, Pioneer Home Entertainment and Business Solutions Group, open-frame and enclosed TouchScreen monitors[/tags]