SACRAMENTO, Calif. /California Newswire/ — According to a news announcement today from Assemblyman Mike Gatto, shortly after being elected, Gatto (D-Los Angeles) had a conversation with a friend who had just returned from Israel. Expecting to hear emotional descriptions of religious sites, Gatto was surprised to hear his friend rave instead about a road that produced energy.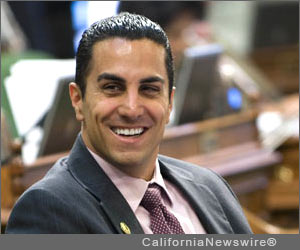 After putting aside his credulity and researching the issue, Gatto found that engineers in Israel, Italy, and Japan had successfully installed piezoelectric sensors underneath roadways and railways. The technique uses tiny devices that look like watch batteries, embedded in pavement, to recapture energy that would be otherwise lost as vehicles rumble along. The energy from the tiny vibrations can be converted into electricity to power roadside lights, call boxes, and neighboring communities. Gatto immediately understood that the technology could be put to good use in car-obsessed California.
In 2011, Governor Jerry Brown vetoed Assemblyman Mike Gatto's AB 306, which would have implemented two piezoelectric pilot projects on California freeways. Undeterred, Gatto asked the California Energy Commission (CEC) to study the issue. This week, the CEC is releasing preliminary research on the feasibility of using piezoelectric material in California roadways to capture wasted energy from cars. The paper is available here: http://www.energy.ca.gov/publications/displayOneReport.php?pubNum=CEC-500-2013-007
The CEC study found that piezoelectric energy could produce electricity at, "between $0.08-$0.20" per kilowatt hour, making it cheaper than almost all current technologies, including roof-top solar.
This is particularly impressive, especially considering that this energy is currently uncaptured, and therefore wasted.
"California's top state scientists have now confirmed that piezoelectric capture can affordably be put to good use in California," said Gatto. "We're the car capitol of the world, and we recycle just about everything. Why wouldn't we capture the energy otherwise lost from roadside vibrations, and put it to good use?"
Piezoelectric technology has been used for years in sonar and touchscreen phones. In 2009, the East Japan Railway Company installed piezoelectric flooring in their Tokyo railway station, using the energy generated by passing pedestrians to power all displays in the station. Israel has already placed this technology under some highways, and Italy has signed a contract to place the technology under a stretch of the Venice-to-Trieste Autostrada. A dance club in San Francisco has even piloted the technology under their dance floor to run their lighting.
"Thirty years ago, no one would have believed that black silicon panels left in the desert could generate 'solar' power," said Gatto. "Like solar power, piezoelectric technology is very real, and I am glad the state has finally acknowledged its potential."
Mike Gatto is the Chairman of the Appropriations Committee in the California State Assembly. He represents Burbank, Glendale, La Cañada Flintridge, La Crescenta, Montrose, and the Los Angeles neighborhoods of Atwater Village, East Hollywood, Franklin Hills, Hollywood Hills, Los Feliz, and Silver Lake. www.asm.ca.gov/gatto