CURLS Receives Votes from Salon Professionals Nationwide
SACRAMENTO, Calif. — CURLS, LLC, the hair care experts for naturally curly hair for multi-cultural women and children, is excited to announce that it has been named as one of the Top 5 Finalists for "Favorite Multi-Cultural Company" in the Behindthechair.com's 7th Annual Stylist Choice Awards!
Mahisha Dellinger, founder and CEO of CURLS, LLC, said: "I am honored to have been recognized by stylists around the world for the work we do with curly hair. It was truly a passion that became a career and is now a living dream!"
The Stylist Choice Awards is one of the most coveted awards in the professional salon industry as finalists are chosen by the most important people in the industry – salon professionals. Given that, being one of the five finalists in the category of "Favorite Multi-Cultural Company" is a strong recognition of CURLS excellence by the industry.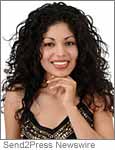 Mr. Vidal Sassoon is the special guest presenter for this year's 7th Annual Stylist Choice Awards. The event is being held on June 10th in Orlando, Florida at Hard Rock LIVE! This year's event is set to be the largest one ever. The evening will include an expected crowd of 2,000+ salon professionals along with 50 or more of the world's greatest Platform Artists on hand to give away the industry's most prestigious awards in salon products, education, platform artist and manufacturer of the year.
The other four finalists are notable companies in the professional world of hairstyling and they are Farouk Systems, Mizani, Paul Mitchell and Redken. CURLS is honored and proud to be a finalist amongst these legendary companies.
About CURLS:
CURLS is a specialized hair care company providing unparalleled service and exceptional products meeting the hair care needs for multi-cultural women with natural curly hair across the US, Canada and other international markets since 2002. CURLS stands out from other companies by offering customized hair care regimes, personalized hair care support, and live workshops on demand.
For additional information or to locate a CURLS salon, please call 866-999-CURL (2875) or visit http://www.curls.biz .
[tags]Curls LLC, curly hair care experts, multi cultural women, Annual Stylist Choice Awards, Mahisha Dellinger, Sacramento news[/tags]