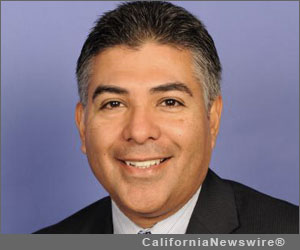 WASHINGTON, D.C. /California Newswire/ — Thursday, U.S. Rep. Tony Cárdenas (D-San Fernando Valley) introduced a bill honoring the life and activities of César Chávez, the laborer and organizer who organized migrant and farm laborers in the western United States during the latter half of the 20th Century.
The resolution recognizes Cesár Chávez Day 2014, reprising the first piece of legislation offered by Cárdenas in the U.S. House.
"As the son of a farm worker who rose from the soil to contribute to this country and raise ten incredible children, César Estrada Chávez is a hero to me," said Cárdenas. "Chávez fought for respect and human rights for all workers, regardless of how humble their job was. Because of his fight, the son of a farm worker can grow to become a Congressman. Because of César Chávez, the American Dream is alive and well, and I hope this Resolution will show the pride our nation has in his life's work."
Chávez is perhaps best known for founding the National Farm Workers Association, which became the United Farm Workers of America. In 1994, Chávez was posthumously awarded the Presidential Medal of Freedom. In 2012, President Obama declared March 31st, Chávez's birthday, as César Chávez Day and, later that year, directed the Secretary of the Interior to establish a César Chávez National Monument in Keene, Calif.
Cárdenas' legislation recognizes the accomplishments and example set by Chávez, pledges to promote Chávez's legacy, encourages the people of the United States to commemorate that legacy and honors Chávez's famous rallying cry, "Sí se puede!" Spanish for, "Yes, we can!"
A companion to Cárdenas' resolution is being introduced in the Senate by U.S. Sen. Robert Menendez.