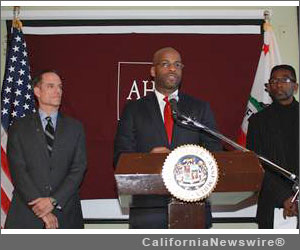 LOS ANGELES, Calif. /California Newswire/ — Today, Calif. Assemblymember Isadore Hall, III (D-Los Angeles) introduced legislation, AB 332, requiring condom use in all adult films produced in California. Joined by Michael Weinstein, President of the AIDS Healthcare Foundation and Darren James, a former adult film actor who contracted HIV while working in the industry, Hall's legislation will provide statewide uniformity needed to ensure that the thousands of actors employed in this multi-billion dollar industry are given reasonable workplace safety protections needed to reduce exposure to HIV and other communicable diseases.
"When it comes down to it, adult film actors are employees, like any other employee for any other business in the state," said Assemblymember Hall. "We have an obligation to ensure that all workers, regardless of the type of work, are protected from workplace hazards and injury. AB 332 will give these actors a proven way to prevent the spread of disease while creating a safer workplace for actors throughout this growing industry."
A 2010 study of adult film actors in Los Angeles County found that 28% of adult film actors tested positive for either gonorrhea or chlamydia or both diseases. Between 2004 and 2010, 23 actors connected with adult film industry tested HIV positive with the most recent infection being identified in October 2010. To date, LA County health officials determined that eight of these people were likely infected as a result of their work in the adult film industry.
"For several years, AIDS Healthcare Foundation sought to clarify in statute the authority of the state's Division of Occupational and Health Safety to regulate the safety of workers employed in the adult film industry by sponsoring statewide legislation strengthening OSHA's oversight of the industry," said Michael Weinstein, President of AIDS Healthcare Foundation. "Until today, no legislator in Sacramento has had the courage to step forward to author and carry such a bill. We thank Assemblymember Hall for demonstrating that courage—and the vision to recognize that workers in the adult film industry are entitled to the same safeguards and worker protections that any employee in California is. In November, Los Angles voters overwhelmingly passed a similar County measure requiring condoms and other safety measures on adult film sets throughout Los Angeles County. Through this bill, Assemblymember Hall intends to expand and broaden these worker protections on a statewide basis. We strongly support Mr. Hall's efforts in this arena and will do whatever we can to help pass this legislation."
This past November, voters in Los Angeles County overwhelmingly approved Measure B, requiring the use of condoms in explicit adult films produced within the County. Hall's measure will expand upon the workplace protections now required in Los Angeles County to protect all adult film actors throughout the state.
The text of AB 332 (Hall) can be found at www.leginfo.ca.gov .
PHOTO CAPTION: Assemblymember Isadore Hall, III (D – Los Angeles) joined by Michael Weinstein, President of the AIDS Healthcare Foundation and Darren James, a former adult film actor announce the introduction of AB 332, requiring condom use in all adult films produced in California. (Courtesy Mr. Hall's office.)