HOLLYWOOD, Calif. — Family Friendly Films, LLC announces that the popular e-book, "Zea Zoo and the Land of Boo: An Urban Fairy Tale," has entered into movie production stage after making its presence known online. Based on a popular children's poem, "Zea Zoo and the Land of Boo" was so successful as an e-book (www.clubsocietyhills.biz) that it is now being made into a computer-generated illustration (CGI) short animated movie.
Targeting the vastly under-served urban youth/family markets, "Zea Zoo and the Land of Boo" has nurtured an international, online audience that has created branding as a positive youth/family-friendly favorite.
"The film is refreshingly new and much anticipated in the animation film industry," P.D. Blackmon of Family Films, said.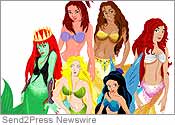 Blackmon has recently returned to study at the UCLA Film School after 20+ years in the media industry as a writer/director and producer.
Post-production VIP screenings of the film are being sponsored by Women in Films (Beverly Hills) and Universal Studios. Equity partnership and distribution deals are currently being shopped.
CGI animation has eclipsed other animation forms and has emerged as one of the most successful film-art forms. Through state-of-the art CGI animation, coupled with traditional artistry, Family Friendly Films has achieved a new level of storytelling that still pays homage to Walt Disney and other great past animators.
The film's characters are reality and fantasy based, giving the animation studio extreme longitude to tell a story while exploring creative boundaries.
At the center of the story is a young, disenchanted boy from Bay Village, a town near the Gulf Coast of Mexico. He gets caught in Hurricane Katrina, nearly drowns, and awakens in the "Land of Boo," a magical wonderland under the sea. While there, he befriends unique characters who help him to return home to save his family and friends.
The boy's efforts are fraught with challenge and he must continue to stay one step ahead of King Nino, Queen Elvia and their evil followers the "SeaWeeds" who seek revenge and, ultimately, his death.
The film is being produced by Family Friendly Films, LLC, Family Film Animations Studio and Blackmon Entertainment.
To learn more, visit: http://www.landofboo.com
[tags]Zea Zoo and the Land of Boo, CGI animated film, Family Friendly Films LLC, Family Film Animations Studio, Blackmon Entertainment, popular e-book[/tags]