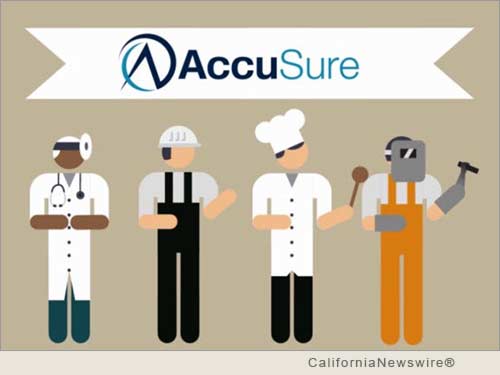 SAN JOSE, Calif. /California Newswire/ — AccuSure today announced the launch of its revolutionary business at DEMO Fall 2014, world-renowned for launching the most innovative companies in mobile, cloud computing, consumer, and social media technologies. (DEMO Booth: B24.)
AccuSure revolutionizes the way a business acquires its insurance by providing an intelligent software tool that expedites the application process, finds the right agents and assists in comparing the quotes apples to apples. It puts the power back in the hands of the people paying the premiums — the businesses.
"We're so excited to have the opportunity to launch our product at DEMO," said AccuSure CEO Jamie Reid. "To be on the stage where so many prestigious start-ups have been before us is such an honor and we feel this validates the fact that our product can disrupt the commercial insurance space. We're just glad that the DEMO felt so, too."
AccuSure will provide a live, four-minute demonstration of its software on the DEMO Fall 2014 stage at 9:45 AM on November 20 and will host live demonstrations beginning today at Booth B24 in the DEMO Fall 2014 pavilion.
"After traveling the country and vetting hundreds of companies on the DEMO Tour, we are excited to select AccuSure to be one of the 40 companies launching new products solving big problems at DEMO Fall," said Erick Schonfeld, executive producer of DEMO.
About AccuSure:
AccuSure helps small- to medium-sized businesses find and manage business insurance through a time-saving, simplified and transparent process. The patented software walks businesses through the application process, matching them to local, pre-qualified brokers. It then organizes the quotes into an easy-to-use format that allows customers to make an unbiased, apples-to-apples comparison via the Quote Analyzer tool. This results in agents providing customers the most competitive quotes for their business. More information: http://get.accusure.com/ .
About DEMO:
Produced by the IDG Enterprise events group, the worldwide DEMO conferences focus on emerging technologies and new products innovations, which are hand selected from across the spectrum of the technology marketplace. The DEMO conferences have earned their reputation for consistently identifying cutting-edge technologies and helping entrepreneurs secure venture funding and establish critical business. For more information on the DEMO conferences, visit http://www.demo.com/ .
All product and company names herein may be trademarks of their registered owners.
MEDIA CONTACT:
Jonathan Leibo
CMO
Office Phone: 858-243-1796
E-mail: jleibo@accusure.com
DEMO Booth: B24
For questions or comments regarding the above news announcement, contact the company/organization(s) mentioned in the text, and not this website.
Copyright © 2014 CaliforniaNewswire® and Neotrope®. California Newswire is a publication of the Neotrope News Network and a U.S. reg. TM of Neotrope.