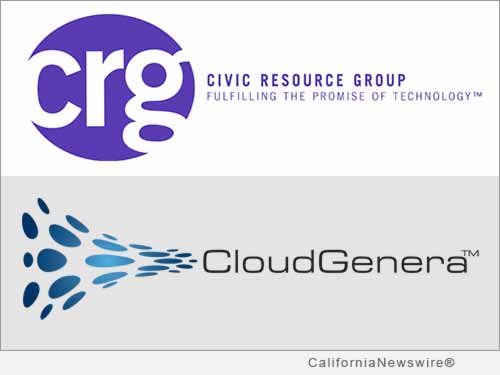 LOS ANGELES, Calif. /California Newswire/ — Civic Resource Group International (CRGI), a recognized leader in providing digital government products, and CloudGenera, a leading cloud transformation company, announced today a partnership that will deliver significant benefits to government and public sector customers looking to adopt CRGI's CivicConnect(TM) Product Portfolio delivered via Software-as-a-Service model.
Available now, the Partners' joint effort helps decision-makers and buyers to purchase cloud-based digital government solutions from CRGI, by leveraging CloudGenera's CloudAssist(TM) and CloudAdopt(TM) platforms that help customers choose the most appropriate cloud, while simplifying and accelerating the adoption of the preferred cloud environment.
CRGI's CivicConnect(TM) Mobile/Cloud/Data Platform and Product Portfolio are mostly delivered to customers as Cloud-based. Traditionally, government and public sector Customers take longer to adopt cloud computing, despite the clear advantages Cloud technology brings organizations. CRGI's partnering with CloudGenera in the role of Managed Service Provider will allow such customers to gain access to the technology that helps eliminate the barriers to adopting cloud computing. CloudGenera's platform includes CloudAssist, which allows for the modeling of applications, followed by CloudAdopt, which represents Service providers such as CRGI, who will evaluate, identify and map out the architecture for the specific cloud services that a specific customer wants to acquire. In addition, CloudGenera is participating in marketing Civic Resources Group's value proposition to the public sector customers and selling cloud services to customers.
"CloudGenera's Acceleration of Adoption of Cloud is a sophisticated, scalable service that combines well with the need of our particular type of customer – government and public sector buyer, who's decision making cycle is traditionally longer due to the sector's more conservative, 'late adopter' position when it comes to recognizing benefits of new technologies, especially the cloud-based technology. Our customers have proven to be the most cautious type of buyers and CloudGenera's participation and 'educational' approach will serve as a non-invasive, effective acceleration," said Dane Smith, President at CRGI. "We anticipate our both Companies to benefit from contributing in elimination of hurdles that our customers unnecessary face, and in the long run help government serve their constituents in a better, faster, technologically-advanced way."
"We are extremely excited to serve this market with such a visionary partner like Civic Resource Group where we can mutually help CIO's accelerate and place governance around their public, private, and hybrid decisions in 2015 and 2016," said Jason C. McKinney, Co-Founder and Chief Revenue Officer. "Windows 2013 Refresh decisions will still be happening over the next 12 months and helping customers look forward with data driven decisions with a trusted partner with managed services is the key to success in today's market with this new category of partners called VARMSP's."
About CloudGenera:
CloudGenera provides a decision engine for cloud transformation — simplifying and accelerating the adoption of the cloud. Our technology helps organizations eliminate the barriers they face when attempting to leverage the cloud by radically simplifying the decision making process. CloudGenera is focused on solving three aspects of cloud acceleration: Cloud Strategy, Cloud Transformation and Cloud Adoption. Visit the company's website at http://cloudgenera.com/.
About Civic Resource Group International:
Civic Resource Group International (CRGI) is one of the world's leading providers of digital government solutions. The Company pioneered CivicConnect(TM), its first-of-a-kind Mobile/Cloud/Data platform. Delivered in SaaS model. The CivicConnect(TM) solutions touch every facet of citizens' lives. Since 2000, CRGI has been "Fulfilling the Promise of Technology(TM)" for clients in the broad public sector, helping them to harness digital advances to effectively connect with their target audiences. By leveraging the award-winning CivicConnect(TM) Mobile/Cloud/Data platform and deep domain expertise, CRGI has delivered impactful, practical and business-specific product portfolio, that have shown a proven record of facilitating openness, transparency, safety and efficient service delivery for governments, public sector and citizens.
CRGI is a new breed of Company with a new approach, innovating offerings that in today's digital age support Sustainable Communities, Efficient Public Services, Engaged Citizens and Better Quality of Life. Visit the company's website at http://www.civicresource.com/ or contact CRG at info@civicresource.com.
For questions or comments regarding the above news announcement, contact the company/organization(s) mentioned in the text, and not this website.
Copyright © 2015 CaliforniaNewswire® and Neotrope®. California Newswire is a publication of the Neotrope News Network and a U.S. reg. TM of Neotrope.