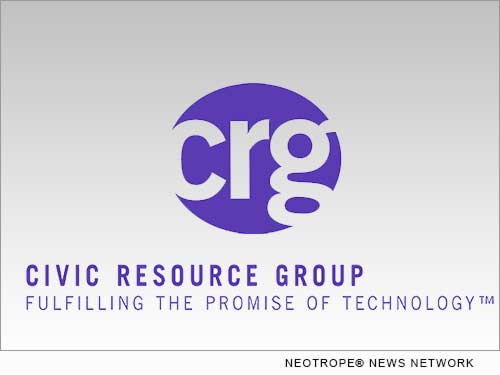 LOS ANGELES, Calif. /California Newswire/ — Civic Resource Group International (CRG), a leading provider of Mobile/Cloud/Data First solutions for the broad public sector, announced today that the Company has been selected to the CIOReview "Top 20 Most Promising Government Technology Providers" list, a recognition indicative of CRG's role in leading the digital transformation of the broad public sector in both the U.S. and international markets.
The Top 20 Government Technology Providers distinction is the second honor the Company has received from CIOReview in the last six months. CRG was also designated one of the Top 100 Most Promising Technology Companies in August 2014. This recognition is testimony to CRG's ongoing commitment to its mission — "Fulfilling the Promise of Technology(TM)."
The special CIOReview Technology and Government Edition presents the "20 Most Promising Technology Providers" in the government sector. The issue recognizes top performers, pioneers and innovators that influence and shape the way governments and civic organizations adapt and provide quality services to citizens in an environment increasingly dominated by the massive move to cloud, mobile technologies and open data.
The Company, founded and led by Gregory G. Curtin, Ph.D., a prominent authority on e-government, was recognized for its innovative approach with its flagship product CivicConnect(TM) — a first of a kind Mobile/Cloud/Data First platform that utilizes cloud-based applications, big data and advanced analytics to drastically improve the ability of governments and public sector organizations to better serve their constituents while also introducing new technologies to drive consumer adaptation of e-Government services.
CivicConnect(TM) – First of Kind Mobile/Cloud/Data First Platform Empowers Government Agencies and Enables the Delivery of Digital Government Services to Constituents in the U.S. and Internationally:
CivicConnect(TM) is the first comprehensive Mobile/Cloud/Data First Platform delivered in a SaaS model (Software as a Service) for the broad public sector. CRG developed CivicConnect(TM) to address radically changing public sector needs resulting from the massive move to the Cloud and mobile along with the growing open data movement. This cloud-based platform provides proven business solutions for transportation, travel and tourism, arts/culture/recreation, water/energy/environmental management, regional economic development, emergency services, and education among others. CivicConnect(TM) is easily scalable and can be utilized horizontally across government and organizations to connect new data and service offerings to citizens through an unlimited number of digital channels: smartphones, kiosks, digital signage, sensors and beacons, in-vehicle apps, wearables, etc.
The CivicConnect(TM) product line includes business-specific applications for the public sector: CivicConnect(TM) SmartCity, award-winning CivicConnect(TM) Water, CivicConnect(TM) Parking, CivicConnect(TM) Travel Relationship Management (TRM), CivicConnect(TM) Asset Management, and others. CivicConnect(TM) solutions are currently being deployed in local, regional, state and international settings.
With the recent acquisition of i3T Mobile out of Dublin, Ireland the Company is expanding its offerings with a new mobile platform that is fully integrated into CivicConnect(TM) and includes patented technology such as mobile augmented reality (AR), geo-directional search (mobile "pointable" search) and virtual teleportation. The new features will enable citizens to interact with their civic environment anytime, anywhere and in whatever manner they desire. With CivicConnect(TM) Mobile/Cloud/Data First offerings, governments can provide rich new data and services, and citizens will actually be able to "see" and interact with the data and services.
"This is an exciting time to be working in the public sector, and especially in delivering new technology that is helping to reshape the sector for the digital world," said Gregory G. Curtin, Ph.D., Founder and CEO of CRG. "It's not often that you get a chance to do something that is transformative for a sector and also so beneficial for citizens and society-that's what really drives us at Civic Resource Group."
"CRG has been on our radar for some time for stirring a revolution in the Government sector, and we are happy to showcase them this year due to their continuing excellence in delivering top-notch technology-driven solutions," said Harvi Sachar, Publisher and Founder, CIOReview. "CRG's solutions continued to break new ground within the past year benefiting its customers, and we're excited to have them featured on our top companies list."
About CIOReview20 Most Promising Government Technology Providers:
The CIOReview distinguished panel comprising of CEOs, CIO, VC, analysts and CIOReview editorial board analyzed over 800 companies providing solutions and consulting services in the government sector and created a shortlist of 20 companies that are at the forefront of tackling new digital encounters faced by public servants unfamiliar with the challenge of fast-moving change. The complete coverage of the 2014 CIOReview20 listings is online at CIOReview Special Government Edition 2015 and in the January 2015 issue of CIO Review magazine.
About CIOReview Magazine:
CIOReview is a technology magazine that focuses on the enterprise solutions that can redefine the business goals of enterprises tomorrow. It is the leading source that shares innovative enterprise solutions developed by established solutions providers, upcoming hot enterprises and is a neutral source for technology decision makers. Published from Fremont, California, CIOReview is an excellent platform showcasing innovative solutions. For more information, visit the company's website at http://www.cioreview.com/ .
About Civic Resource Group International:
Civic Resource Group International is one of the world's leading providers of digital government solutions. The Company provides highly secure Mobile/Cloud/Data First solutions that touch every facet of citizen's lives. Since 2000, CRG has been "Fulfilling the promise of technology(TM)" for clients in the broad public sector, helping them to harness digital advances to effectively connect with their target audiences.
By leveraging the award-winning CivicConnect(TM) Mobile/Cloud/Data First platform and deep domain expertise, CRG has delivered impactful, engaging and cutting-edge solutions that facilitate openness, transparency, safety and efficient service delivery for external and internal users alike. CRG is a new breed of Company with a new approach, blending the best of technology, design and communications in the digital age.
Visit the company's website at http://www.civicresource.com/ or contact CRG at info@civicresource.com.
For questions or comments regarding the above news announcement, contact the company/organization(s) mentioned in the text, and not this website.
Copyright © 2015 CaliforniaNewswire® and Neotrope®. California Newswire is a publication of the Neotrope News Network and a U.S. reg. TM of Neotrope.