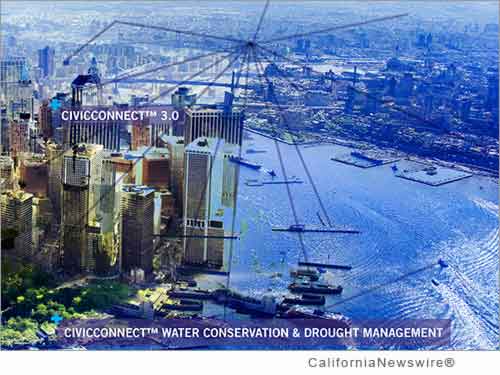 LOS ANGELES, Calif. /California Newswire/ — Civic Resource Group International (CRG) today announced immediate availability of its award-winning CivicConnect(TM) Water Conservation and Drought Management Platform to all the Cities and Water Agencies throughout California.
As Governor Brown has officially mandated water restrictions/conservation throughout the State of California, CRG is proactively stepping up its efforts to raise the awareness of availability of its CivicConnect(TM) Water Conservation and Drought Management Platform primarily in drought-stricken State of California. In the near future the Solution will be made available to the states also affected by the drought – Arizona, Nevada, Colorado, Idaho, Montana, Washington, and Wyoming among them.
The first release of CivicConnect(TM) Water Conservation and Drought Management Solution was pioneered in California. The application was originally developed with support from the California Department of Water Resources and Federal Bureau of Land Management. This project represented a groundbreaking approach to Water Conservation on a regional basis, and was awarded the California Internet Project of the Year. Today the Solution is in full production in a SaaS (Software-as-a-Service) model for the City of San Diego.
The new cloud-based version is deployable in rapid and cost-effective manner, without traditional investment in new hardware. Most importantly, the cloud-based nature of the Solution allows for easy replication for virtually any interested customer.
Built on the first-of-a-kind CivicConnect(TM) Mobile/Cloud/Data Platform 3.0, CivicConnect(TM) Water is a comprehensive online water conservation/management system. The system includes a unique GIS Landscape Area Measurement (LAM) Tool which allows agencies to create accurate measurements of customer sites for water budgeting and tracking purposes. The system integrates the consumption and billing data with sophisticated infrared imagery for classifying vegetation, satellite imagery for viewing/validating, parcel data layers, and real time evapotranspiration data from State managed CIMIS stations and sensors throughout the county to automatically create a range of water budget targets, reports, and analyses for individual business and residential customers as well as the agency.
The system utilizes cloud applications, big data, analytics, and can be utilized horizontally across any given city government or water agency to connect data/service offerings between agencies' personnel and consumers of water resources through online and mobile services.
About Civic Resource Group International:
Civic Resource Group International (CRGI) is one of the world's leading providers of digital government solutions. The Company provides highly secure Mobile/Cloud/Data solutions that touch every facet of citizen's lives. Since 2000, CRGI has been "Fulfilling the promise of technology(TM)" for clients in the broad public sector, helping them to harness digital advances to effectively connect with their target audiences. By leveraging the award-winning and first-of-a-kind CivicConnect(TM) Mobile/Cloud/Data platform and deep domain expertise, CRGI has delivered impactful, engaging and cutting-edge solutions that facilitate openness, transparency, safety and efficient service delivery for external and internal users alike.
CRGI is a new breed of Company with a new approach, blending the best of technology, design and communications in the digital age to support Sustainable Communities, Efficient Public Services, Engaged Citizens and Better Quality of Life.
Visit the company's website at http://www.civicresource.com/ , contact CRG at info@civicresource.com.
VIDEO:

For questions or comments regarding the above news announcement, contact the company/organization(s) mentioned in the text, and not this website.
Copyright © 2015 CaliforniaNewswire® and Neotrope®. California Newswire is a publication of the Neotrope News Network and a U.S. reg. TM of Neotrope.