CHICAGO, Ill. — Having healthy air in a home or workplace should not be a luxury, but a necessity. That's why a new web site, SafeHVAC.com(TM), is offering free furnace tests and inspections to demonstrate not only how to improve air quality, but overall health. Home and business owners fill out a simple online form and are instantly registered for a free test; it's that simple.
Mold spores can grow at the rate of 70 trillion new mold spores in just 24 hours and cooling coils (the lung of a furnace) is a perfect breeding ground for mold and bacteria, due to condensation. While the furnace or air conditioner is operating, it continually re-circulates that same condensation, mold and bacteria.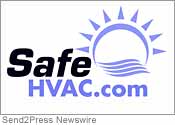 The Centers for Disease Control (CDC) and the Environmental Protection Agency (EPA) both advise on having heating, ventilating and cooling system inspections to ensure that air quality is mold and bacteria free. They agree that these inspections and subsequent actions to improve the system will yield healthier aging and easier breathing.
SafeHVAC.com(TM) not only inspects systems, they provide home and business owners with video and take a sampling of the amount of mold and bacteria that is present; contamination levels will vary. Once the level of contamination is determined, an ultraviolet germicidal c-band (UV-C) is suggested for installation over coils to instantly kill mold and bacteria; it's an affordable EPA treatment to fix the problem.
If not corrected, these micro-organisms will eventually be inhaled leading to a potentially harmful situation, especially for people with respiratory sensitivities and children with asthma.
"Mold is an opportunist, starting at the cooling coils of a furnace," Darryl Morris, Marketing Director for SafeHVAC.com(TM), explains. "Mold breeds; its invisible spores are produced and float throughout the air of a home looking for a moist place to land, reproduce, and create more mold spores. UV-C can stop the cycle at its source – the furnace."
The actual test takes approximately 60 seconds or less and adheres to all laws, regulations and ordinances that pertain to the HVAC and the Indoor Air Quality Industry.
UV-C Antimicrobial Treatment Ultraviolet lights have been used for decades to create some of the world's healthiest environments and it has also been used to disinfect hospitals and sterilize drinking water.
Research has shown that ultraviolet rays with wavelengths of 253.7 nanometers are optimal for killing micro-organisms. This wavelength is commonly called the "Germicidal bandwidth" because it deactivates the DNA of these micro-organisms. SafeHVAC.com's technology has been tested by the EPA against air-borne viruses, mold, and bacteria – and has resulted in being a safe and EPA-registered, non-toxic solution.
Currently, the service is available in six states with plans for expansion: Illinois, Indiana, Wisconsin, Kentucky, Michigan and Ohio. For more information or to arrange a meeting with an environmental consultant, visit: http://www.SafeHVAC.com – or call: 1-888-355-HVAC (4822).
All trademarks acknowledged.
Send2Press(R) is the originating wire service for this story.
NEWS SOURCE: SafeHVAC