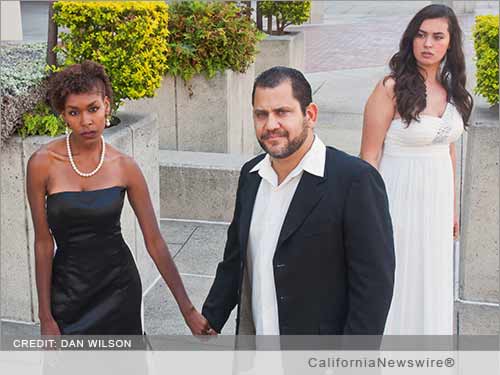 LONG BEACH, Calif. /California Newswire/ — It's the early 1980's and the radio is blasting a catchy tune about a Chess game in Bangkok, "One Night in Bangkok." The song sounds part disco and part "I have no idea." With further research we find out it comes from a musical play, one by a famous trio, Tim Rice, the lyricist, and Benny Andersson and Bjorn Ulvaeus, the composers, and the "B"'s from the famous pop sensation ABBA. If you are old enough to remember this time you will also recall the confusion regarding the song. Such is the story too of the musical, "Chess" being boldly staged by Art-In-Relation in Long Beach, Calif.
The beautiful concept album of the 80's became a musical sensation even if no one really quite understood it, and quite frankly, it didn't matter.
Art-In-Relation, boldly celebrates its year anniversary with its seventh production by venturing to reinvent and produce this beautiful, almost cult favorite musical in the gorgeous Ernest Borgnine Theater located in the Scottish Rite Cathedral in Long Beach, Calif. Director and Executive Producer, Jonas Sills aims to bring this production back to its roots with a simple, but carefully planned fully staged production that aims to focus on the beauty of the music and the images chess, the game, can invoke.
"The stage is simply set with a larger than life sized chess board, with each performer and character metaphorically representing a piece in the game," says Sills. "The story of a Soviet versus U.S. cold war era epic seems more poignant in our current environment of increased tension with the former Soviet Bloc, and the stories of love and sacrifice across borders are universal."
Sills also intends to visually recreate classic historical chess games on the stage using cast members.
This show features a cast of over thirty and a complete multicultural, "non-traditional" casting. Art-In-Relation was very proud to "cross over borders" by casting completely on talent and not necessarily tradition. A diverse "color blind" cast will present this show with voices as diverse as the characters and styles in the story.
"Chess," the Musical, has gone through many different incarnations and Art-In-Relation hopes that this production will really focus on the beauty and hope in the story with a few interesting surprises. This production will focus on the "lynchpin" of the story, the strong and independent Florence, played by Marie Wheeler.
"Florence really is the 'grandmaster' of the production, orchestrating, sometimes without her own knowledge, the movements of all the other pieces of the cast," says Wheeler, "It's a dream role of mine that I intend to give my own style to."
Other cast members include Lan Carter as the Bobby Fischer inspired Freddy, Jonas Sills as the troubled Russian Anatoly, Nicolette Latini as the beautiful powerful Svetlana, Bob Cory as the commanding Molokov, and Claudio Medina as the wonderfully enigmatic and ethnically unclear Arbiter. Music direction is by Gary Fritzen, with choreography by Loretta Richerts. Ray Buffer is co-producer.
Chess plays on October 2nd, 9th, 10th and 16th, 2015 at 8 p.m. and October 4th, 10th, 11th, 17th, and 18th at 2 p.m. at the historical Scottish Rite Cathedral in Long Beach. Tickets are available at http://chess.bpt.me.
The Ernest Borgnine Theatre is at 855 Elm Avenue, Long Beach, CA 90813 and offers plenty of free parking in its own lot.
About Art-In-Relation:
Art-In-Relation (AIR) is a new arts organization based in Long Beach, California. Its focus is on providing a service to the community by bringing a mixture of the familiar with new and emerging works of musical theater, drama, and even visual and healing arts, performed by a "collaborative" combination of professionals as well as new and emerging talent. AIR will be opening a special boutique and art gallery in downtown Long Beach in late October.
More information: http://www.artinrelation.com/ .
For questions or comments regarding the above news announcement, contact the company/organization(s) mentioned in the text, and not this website.
Copyright © 2015 CaliforniaNewswire® and Neotrope®. California Newswire is a publication of the Neotrope News Network and a U.S. reg. TM of Neotrope.