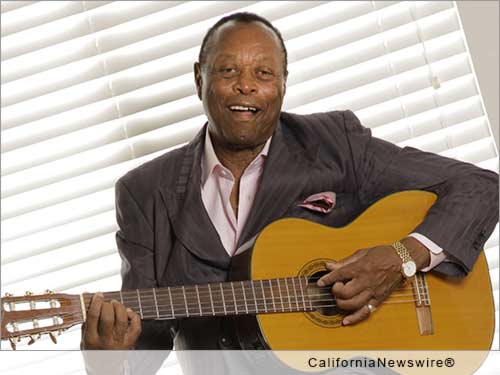 BEVERLY HILLS, Calif. /California Newswire/ — Join us at the Saban Theater in Beverly Hills, Calif., at 8 p.m. for the funky grooves of headliner Charles Wright & The Watts 103rd Street Rhythm Band! Special musical guests include The Original Lakeside, Bloodstone and Chante Moore will keep the stage hot until the ball drops. A champagne toast and party favors help you bring in 2016 with fireworks, fun and soul music from many decades.
Charles Wright, the multi-talented musician, singer and leader of The Watts 103rd Street Rhythm Band has made good use of his of his decades in the business. With a career that spans from the band's formation in the '60s to the continual sampling of hit song, "Express Yourself" in today's media, Charles Wright and the Watts 103rd Street Rhythm Band's legacies are stronger than ever. "Express Yourself" has been covered and sampled by the biggest names in Hip Hop and R&B, appearing in national television commercials and major movie soundtracks including "Mr. & Mrs. Smith" and the N.W.A. movie: "Straight Out of Compton."
Proving that good music and artistry can withstand the test of time, Charles Wright has had an active solo career – releasing twenty-nine albums for independent and major labels. His latest single "I'll Give You Time" ( https://youtu.be/3wZrYWA7V2k ) is a sweet and playful throwback to the days of torch songs and perfectly syncopated background singers. Wright's music appeals to listeners of all ages and this upcoming New Year's Eve performance will definitely increase his loyal listeners and adoring fans. Though highly regarded for expert musicality, creativity and an unmatched Soul, Funk, Pop and Blues sound, Charles has a habit of defying expectations.
Charles will be spending the evening celebrating his many accomplishments in 2015 not only the release of the new album – Let's Make Love Tonight but also the November publication of his first autobiography, "UP From Where We've Come," (currently available as an e-book and audiobook – online and in bookstores). "UP From Where We've Come" is a firsthand account of the struggles and triumphs that generations of Wright's family faced. It is an insight-filled journey of a sharecropper's son from Mississippi who picked cotton, grew up in abject poverty but rises to the top as a Hollywood Soul Music Legend. The 56-chapter book is a chronicle of historical significance, cultural importance and evident inspiration. (The hardcover version of the book will be released in time for Black History Month in February 2016).
This New Year's Eve concert's special musical guests are sure to pack the dance floor and make the last great night of 2015 fly by! The celebration continues with The Original Lakeside the Midwest-formed R&B funk band responsible for hits such as "It's All The Way Live," "Your Wish Is My Command" and their biggest hit, "Fantastic Voyage." Genre-crossing chameleons known as Bloodstone ("Natural High" & "You're Still A Young Man") are set to bring their soul, funk and funky rock sound to the evening's eager audience. Vocal powerhouse Chante Moore – one of the stars of "R&B Divas: LA" will be performing her own signature brand of quintessential quiet storm jams like, "It's Alright" and "Chante's Got A Man." Moore's recent "Unsung" episode was one of TV One's highest rated episodes for 2015.
NEW YEAR'S EVE TICKET INFORMATION:
Ticketmaster Phone: 800-653-8000 / Online: http://www.ticketmaster.com/ — or, the Saban Box Office 8440 Wilshire Boulevard, Beverly Hills, CA 90211 Phone: 888-645-5006 / Online: http://www.sabantheatre.org/ / http://www.canyonclub.net/.
MEDIA CONTACT:
J'ai StLaurent-Smyth
Inque Public Relations
732-254-0607
For questions or comments regarding the above news announcement, contact the company/organization(s) mentioned in the text, and not this website.
Copyright © 2015 CaliforniaNewswire® and Neotrope®. California Newswire is a publication of the Neotrope News Network and a U.S. reg. TM of Neotrope.