SAN ANSELMO, Calif. — Members from the casts of Golden Globe nominees Lost and Heroes got the chance to indulge in the luxurious t'Zerah skin care treatments at the Backstage Creations Retreat during rehearsals at the 2007 Golden Globe(R) Awards and left looking and feeling a little more relaxed, gorgeous and ready for the red carpet. T'Zerah, a luxurious couture-quality line of skin care inspired by the ancient knowledge of the restorative power of plants, was selected as the exclusive skin care line at the Backstage Creations Retreat during the Golden Globe rehearsals on Saturday and Sunday.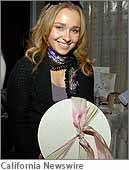 Nearly 60 celebrity presenters were invited to visit the retreat over the weekend. Bai Ling, Daniel Dae Kim, Yunjin Kim and Ian Somerhalder (from Lost) and Hayden Panetierre, Adrian Pasper, Sendhil Ramamurthy and Ali Larter (from Heroes) all visited the retreat and experienced these luxurious products and then went home with an exclusive collection of t'Zerah products presented in a custom made ivory silk box filled with flower petals and wrapped in hand made Japanese rice paper.
Before they left, here's what they said about the products:
* "Whenever I come back to LA from Hawaii, my skin gets so dry. I need this!" — Yunjin Kim.

* "It smells great! My wife will love this." — Sendhil Ramamurthy.

* "I love the scent!" — Hayden Panetierre.

* "This is great. My hotel room is so dry! My skin really needs this!" — Ian Somerhalder.

(NOTE: no celebrity endorsement claimed or implied.)
And it wasn't just the casts of these two programs that fell in love with the products. In fact women, as well as the men in Hollywood were asking for more. Terrence Howard (of Crash) was heard saying, "Mmmm. That feels good. Can you hook me up with two of those boxes?"
T'Zerah is made with only the freshest, purest essences of flowers, fruits, plants and precious minerals carefully selected for their ability to harmonize with the skin, rejuvenating and restoring its vitality and radiance. You can truly feel the difference – the products have a freshness and vitality that has become the t'Zerah signature.
Backstage Creations is the leading company providing corporate clients an exclusive opportunity to personally introduce their products and services to celebrities. Invited celebrities visit custom designed "Retreats" to relax and choose products selected by event organizers as "thank-you" gifts. Backstage Creations has created celebrity retreats at various industry events including the Golden Globes Awards, People's Choice Awards and Billboard Music Awards.
All trademarks acknowledged.
[tags]Backstage Creations retreats , t'Zerah skin care treatments, San Anselmo news[/tags]