SAN FRANCISCO, Calif. /California Newswire/ — The non-profit Canessa Gallery has announced the second annual "Nature in the City" exhibit, opening on September 3, 2012, with a mix of photography, painting, sculptures and other media from more than a dozen successful San Francisco Bay Area artists.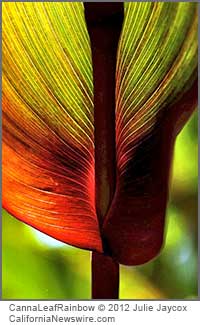 According to the gallery announcement, the Nature in the City exhibit showcases a variety of expressions of nature in the San Francisco area, including plants, animals or birds; but at times humanity is the only perceptible form of nature. In a brick and mortar, concrete landscape, nature can be anything mortal or soft. Weeds in the cracks, people on the sidewalk, gardens on the roof, chickens on Filbert Street, waves on the beach, dogs in the park, fog on the ground, murders of crows over downtown, the sky, compost, and Farmers Markets.
The appearance of nature in a heavily urbanized environment can be eye-catching or beautiful. Close-up botanical photographs reveal the hidden beauty of plants in the works of photographer Julie Jaycox. Wildlife incorporated into murals and and maps are themes in images from Corinne DeBra. And sculptures from natural materials, such as kelp and driftwood, are exemplified in the works of sculptor Miriam Owen and woodworker Boris. Photographer Richard Zimmerman explores the boundaries between land and water.
The exhibit will run from September 3 – September 29 and is open to the public on Wednesdays or Saturdays from 12 – 3 p.m., or by appointment. Call 415-296-9029. An opening night reception will be Friday, September 7, 6-9 p.m., coinciding with North Beach First Fridays.
Canessa Gallery is located at 708 Montgomery Street, San Francisco, in the landmark Canessa Building — a diminutive old-brick gem that is one of downtown San Francisco's last links with her colorful, bohemian past. For more than 45 years, Canessa Gallery, a 501(c)3 nonprofit, has been at the center of San Francisco's rich artistic, literary, and cultural history. Canessa has, to date, showcased more than 600 new, emerging, and established sculptors, painters, photographers, and performance and literary artists.