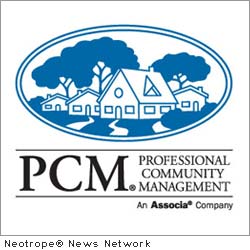 LAKE FOREST, Calif. /California Newswire/ — Professional Community Management of California, Inc. (PCM) today announced that seven of its employees received Vision Award nominations from the California Association of Community Managers (CACM). Each nominee was recognized for exemplifying a high standard of service to meet residents' needs, reduce costs to the community and conserve resources.
"We strive to go above and beyond the call of duty to anticipate and meet the needs of residents, save budget and reduce environmental impact," said Donny Disbro, Chief Executive Officer of PCM. "Helping our residents love where they live is our highest priority, and we are happy to see our staff recognized for this work."
PCM employees were nominated for the creation of innovate programs to improve safety, communications, water savings and energy reduction. An example of this work is a computerized, weather-based irrigation control system, installed by a PCM nominee, which garnered several hundreds of thousands of dollars in rebates and savings.
The nominees include Donny Disbro, CEO of PCM; Jerry Storage, General Manager of Laguna Woods Village; Judie Zoerhof, Towers Director at Laguna Woods Village; Wendy Bucknum, Governmental and Public Affairs Manager at Laguna Woods Village; Kurt Rahn, Landscape and Recreation Director at Laguna Woods Village; Kim Back, Community Relations Manager at Lake Forest Community Association; and Becky Groenewold, General Manager at Ocean Hills Country Club.
"We are honored to see our staff recognized for their exemplary work in making our communities a better place to live," added Disbro. "We have some of the most talented managers in the industry and each year they excel in tackling challenges in all shapes and sizes."
The Vision Awards is scheduled to be given at the CACM's 21st Annual Statewide Expo and Conference from July 26-27, 2012. The conference will bring together more than 1,200 community management professionals from around the state for two days of learning, networking and inspiration. The award illustrates the highest standards in community association management. This year, the Vision Awards celebrates 21 years.
About Professional Community Management of California, Inc.:
Professional Community Management of California, Inc. (PCM), an Associa company, specializes in the management of Common Interest Developments of homeowner associations for family oriented master-planned developments, resort-style master-planned communities, active-adult master-planned communities, condominium associations and boutique communities throughout Southern California and Southern Nevada.
With headquarters in Lake Forest, Calif., PCM and its companies employ a staff of more than 1,500 people. PCM has offices in serving all of Southern California and Southern Nevada and is recognized by the Multi Housing Council as one of the country's largest managers of common interest developments. Management services by PCM are backed by state-of-the-art Internet technology and comprehensive financial and management systems. For additional information, please contact PCM at 800.369.7260 or at http://www.pcminternet.com.
About Associa:
Building successful communities for more than 30 years, Associa is North America's largest community association management firm and serves its clients with local knowledge, national resources and comprehensive expertise. Based in Dallas, Associa and its 8,000 employees operate more than 150 branch offices in the United States, Mexico and Canada. To learn more about Associa and its charitable organization, Associa Cares, go to www.associaonline.com and www.associacares.com.
Copyright © 2012 CaliforniaNewswire® and Neotrope®. California Newswire is a publication of the Neotrope News Network and a U.S. reg. TM of Neotrope.