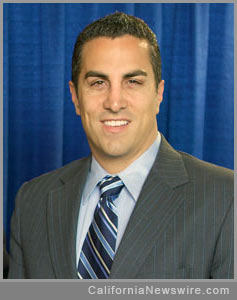 SACRAMENTO, Calif. /California Newswire/ — California took one small step today in what could be a giant leap for good-government advocates, passing Assemblyman Mike Gatto's (D-Los Angeles) "X-Prize" bill through the Accountability and Administrative Review committee by a vote of 12-0. AB 2138 would create a "California Government X-Prize," offering cash incentives for people with ideas to increase government efficiency and reduce government waste.
"This bill opens up government to the marketplace of ideas," said Gatto. "Many people are frustrated with the inefficiencies of government and know exactly how to improve a system or process. This modest 'California Government X-Prize' provides the platform for creators and innovators to apply their knowledge to streamline California government."
The legislation would authorize Governor Jerry Brown to select three state agencies, each of which will offer a $25,000 prize for Californians with great ideas to solve a specific problem, innovate a process, or otherwise streamline a government agency. The prize will be open to all Californians not employed by the agency offering the grant.
In his book Citizenville, Lt. Governor Gavin Newsom explained that "incentive prizes are a perfect bipartisan solution: They solve problems, help people, and save money, thereby fulfilling goals that span the whole political spectrum." Newsom suggested government use them more often, especially in technology-rich California, and Gatto took up that mission.
Incentive prizes have been around for centuries, dating back to 1714, when the British government created the Longitude Prize – a £20,000 award (more than $4 million in today's dollars) to the person able to formulate a method to calculate the longitude of a ship once it had sailed out of view of land. Most observers expected the prize to be won by a navigator or sailor, but it was a local watchmaker who brought a new expertise to the issue and solved the puzzle.
Similarly, in 1919, a then unknown and untested pilot named Charles Lindbergh received international acclaim when he won the Orteig Prize, a $25,000 award for the first person to fly from New York to Paris nonstop.
In the modern world, it is not so much the money as the renown that makes entering such contests attractive. The Federal Defense Advanced Research Projects Agency (DARPA) launched a contest in February 2011 to develop a combat vehicle that could be used for reconnaissance as well as delivery and evacuation. Ordinarily, the procurement process for developing this kind of vehicle would cost the government millions of dollars and take a considerable amount of time. The DARPA contest was a wild success. It received over 150 design submissions in less than two months. The winner of the contest, a blue-collar worker for Peterbilt Trucks named Victor Garcia, received just $7,500 for having the best design (but a lifetime of renown and recognition within his field).
"The people of California are resourceful and inventive," said Gatto. "Incentives like this can showcase Californians' creative solutions to some of the state's most pressing issues."
Mike Gatto is the Chairman of the Appropriations Committee in the California State Assembly. He represents Burbank, Glendale, La Cañada Flintridge, La Crescenta, Montrose, and the Los Angeles neighborhoods of Atwater Village, East Hollywood, Franklin Hills, Hollywood Hills, Los Feliz, and Silver Lake. www.asm.ca.gov/gatto