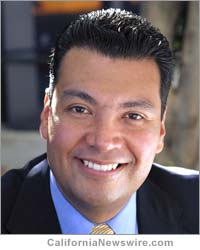 SACRAMENTO, Calif. /California Newswire/ — Today, the California State Assembly approved Senate Bill 1525 on a vote of 51 – 25. Authored by State Senator Alex Padilla (D-Pacoima), the legislation known as the "Student-Athlete Bill of Rights," would require universities located in California that generate on average more than $10 million in media revenues a year to provide specific protections to college athletes. The California Senate previously approved the legislation. Following a final procedural concurrence vote in the Senate, the bill will go to the desk of Governor Jerry Brown for his consideration.
"With this bill, California is leading by example. Neither personal injury nor poverty should dim the dreams of a student-athlete pursuing a college degree, particularly when their performance has enriched their college," said Senator Padilla.
"I am big fan of collegiate athletics. But I am also concerned that the vast amount of money in collegiate sports has distracted us from the primary purpose of our colleges. With billions of dollars in television revenue gained on the backs of student-athletes, it is shameful that so few student-athletes actually graduate," Padilla added.
Key provision of SB 1525 (Padilla) require that universities that generate more than $10 million in media revenues a year:
– Provide equivalent academic scholarships to student-athletes who are injured and lose their athletic scholarship
– Provide equivalent academic scholarships to student-athletes who have exhausted their NCAA athletic eligibility but have not completed their degree
– Pay the health care premiums for low-income student-athletes
– Cover all deductibles for injuries related to their participation in an intercollegiate sport
– Conduct a financial and life skills workshop for all first and third year student-athletes
– Afford student athletes the same disciplinary due process as other students
– Adopt and implement guidelines to prevent, assess and treat sports related concussions, dehydration, along with exercise and supervision guidelines for student-athletes identified with potentially life-threatening health conditions
(Pacific 12 Conference members UCLA, Cal Berkeley, USC and Stanford would currently be required to meet the standards in the bill. San Diego State University may also qualify as a member of the South Eastern Conference)
"This legislation is the first of its kind in the nation and promises student-athletes the important protections that should have been in place long ago. California is leading the way by establishing these standards for their universities," said Ramogi Huma, President of the National College Players Association.
"The universities impacted by this bill benefit from their share of a $3 billion media contract. A small percentage of these revenues will allow these colleges to meet the basic standards established in this bill," added Senator Padilla.
Graduation Rates:
According to the NCAA, California is home to 17 Division I and II schools that have at least one sport where the graduation rate is 50 percent or lower. The NCAA reports that in some cases the graduation rates are much lower.
* Cal Berkeley men's basketball graduation rate is 33%
* UCLA's football graduation rate is 40%
* USC men's basketball graduation rate is 38%
(source: NCAA Website)
Medical Costs:
"Despite the NCAA's stated mission, it currently does not require that schools pay for medical coverage or provide continued academic support for injured student-athletes. This, while many universities are receiving tens of millions of dollars in media revenue each year," said Senator Alex Padilla.
Each year thousands of student-athletes suffer injuries while training or competing. A 16 year study conducted by the NCAA and the Journal of Athletic Training showed that in football alone, there were 30,797 injuries from games and more than 53,298 from fall and spring practice sessions. Many of these injuries are career ending.
Athletes on scholarship who suffer season or career ending injuries are often saddled with medical bills and are at risk of losing their scholarship. Presently, there is no uniform policy for student-athlete medical coverage, nor are there policies that preserve educational support for student-athletes who lose their athletic scholarships due to injury. This lack of support contributes to low graduation rates among student-athletes.
Senator Alex Padilla, 39, graduated from MIT with a degree in Mechanical Engineering. He currently serves on the Board of MIT and as President of the National Association of Latino Elected and Appointed Officials. He is Chair of the Senate Energy, Utilities and Communications Committee and represents the more than 900,000 residents of the 20th State Senate District which includes most of the San Fernando Valley in Los Angeles.