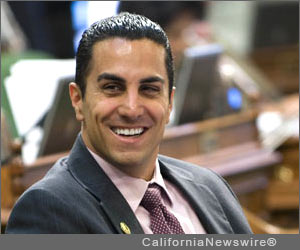 SACRAMENTO, Calif. /California Newswire/ — After nearly two years of negotiation, legislation to protect and preserve sacred Native American landmarks was signed by Governor Brown yesterday. AB 52 would ensure that tribes have a say in development projects that affect tribal sacred places and cultural resources, by strengthening the consultation standards with tribes under the California Environmental Quality Act (CEQA).
California is struggling to preserve the last remnants of its Native American past. Recently, thieves stole carvings from an unprotected sacred site on the Volcanic Tableland, north of Bishop, and developers have sought to place everything from dumps, to housing developments, to granite mines, near or on top of ancient sacred sites.
"If we don't do something, future generations will wonder what happened to California's pre-Columbian heritage," said Gatto. "By including tribes in the decision-making process, we will build better relations and preserve California's unique cultural heritage."
Tribal Chairperson Sherry Treppa, of the Habematolel Pomo Tribe of Upper Lake noted "All too often, tribes with little to no economic means to provide themselves a voice, are left out of the conversation in the decision making process on matters that impact them the most."
"This is an important step toward aligning California's environmental laws with the values that are often espoused about respecting tribal heritage and history, not only for this generation, but for future generations of all Californians," said Tribal Chairman Mark Macarro of the Pechanga Band of Luiseno Indians. "We deeply appreciate Assemblymember Gatto for his leadership, and the legislature's support."
Currently, tribes are not treated as coherent sovereign entities under CEQA, but instead as mere members of the public, even if wishing to express a unified opinion about a site which has been a unique part of the tribe's heritage for thousands of years. Efforts to reform CEQA, prevent abuse, and create uniformity have stalled, in part, because of concerns by Native Americans that a streamlined CEQA would provide lesser protections for sacred sites.
Robert H. Smith, of the Pala Band of Mission Indians, explained that "The passage of AB 52 means that our cultural sites will be given the respect and consideration they deserve as part of the CEQA process. Allowing tribes to work cooperatively with agencies and developers to protect our cultural places benefits us all. We are grateful to Assemblyman Gatto for his hard work on behalf of all California tribes."
"Native peoples deserve protections for sites that are a part of their ancient heritage," said Gatto. "Efforts to maintain them must be considered an essential activity in the preservation of our state's historic resources."
Mike Gatto is the Chairman of the Appropriations Committee in the California State Assembly. He represents Burbank, Glendale, La Cañada Flintridge, La Crescenta, Montrose, and the Los Angeles neighborhoods of Atwater Village, East Hollywood, Franklin Hills, Hollywood Hills, Los Feliz, and Silver Lake. Follow him on Twitter @MikeGatto or visit www.asm.ca.gov/gatto