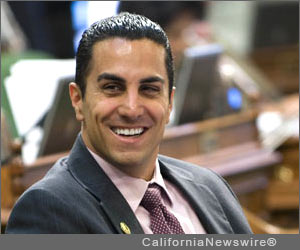 SACRAMENTO, Calif. /California Newswire/ — The California Public Utilities Commission (PUC) voted unanimously last week to adopt new rules for the injection of biogas into the state's natural-gas pipelines, ushering in an entirely new clean-energy industry in the Golden State. Biomethane, a renewable form of natural gas, was previously banned from the California pipelines due to outdated laws and a lack of regulations for testing and monitoring the gas. The regulations passed on Thursday (and the necessary statutory changes) stem from AB 1900, authored by Assemblyman Mike Gatto (D-Los Angeles), and AB 2196 (joint-authored by Gatto).
Biomethane is a natural gas produced by decomposing matter. It is a by-product of many regular activities. Landfills, water-treatment plants, and livestock all produce it. Once cleaned, it can be burned in electricity-producing facilities, natural-gas-powered vehicles, and home appliances. In addition to serving as a source of energy, using (instead of releasing) biomethane also helps reduce greenhouse-gas emissions and protect the natural environment. Biomethane is 21 times more potent as a greenhouse gas than carbon dioxide.
"Creating an in-state biomethane industry is common sense. We can produce renewable power in our state, from sources that occur naturally," said Gatto. "We can put Californians to work, clean our air, keep utility bills low. I'm excited that the PUC has taken the next step to create this landmark industry."
Gatto was frustrated with the hurdles biogas companies faced when trying to sell their renewable fuel to California utilities. The Assemblyman spent a year sorting out the bureaucratic barriers of entry and writing new standards for biomethane injection. The final bills lifted the ban on landfill gas and instead required the PUC to adopt public-safety and pipeline-safety standards for biomethane, as well as monitoring and reporting standards, which would allow the renewable fuel to be used in California.
The PUC now embarks on Phase II of their biomethane rulemaking, which will address cost concerns associated with the new biomethane regulations. Meanwhile, utilities around California will be able to begin using biomethane to bring clean, renewable natural gas to their customers.
Mike Gatto is the Chairman of the Appropriations Committee in the California State Assembly. He represents Burbank, Glendale, La Cañada Flintridge, La Crescenta, Montrose, and the Los Angeles neighborhoods of Atwater Village, East Hollywood, Franklin Hills, Hollywood Hills, Los Feliz, and Silver Lake. www.asm.ca.gov/gatto