LOS ANGELES, Calif. /California Newswire/ — On Tuesday, November 1, 2016, In Home Supportive Services (IHSS) providers from throughout the state will testify at a Senate Human Services Oversight Hearing regarding continued issues with the state payroll and timesheet processing, UDW/AFSCME Local 3930 and SEIU Local 2015 announced today.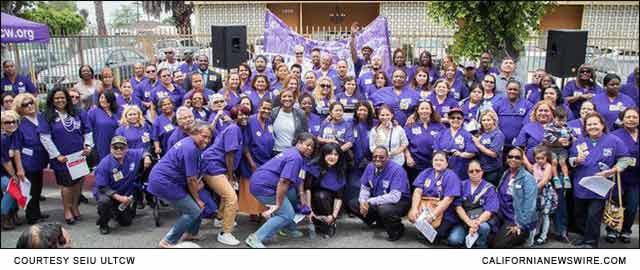 With the state's population rapidly aging, the demand for home care providers continues to grow. According to the California Public Policy Institute, California's senior population – those 65 and older – will nearly double in the next 15 years. Yet despite the importance and need for this work, the over 460,000 home care workers who provide services through California's In-Home Supportive Services (IHSS) are all too often paid late or incorrectly.
While home care providers save the state millions of dollars, they are often undervalued and underpaid. Therefore, a late paycheck or two can devastate providers leading to serious negative outcomes like evictions, utility shutoffs, and ultimately the inability to provide for their families and those they care for.
In order to address these issues, UDW/AFSCME Local 3930 and SEIU Local 2015 partnered to win an audit of the current IHSS payroll system and successfully moved the state to agree to implement electronic timesheets in 2017. However, while electronic timesheets are a good first step, IHSS providers also want to see the current paper-based system fixed once and for all.
Who: Home care workers, home care recipients, home care advocates, state legislators, and California Department of Social Services
What: IHSS home care providers negatively impacted by flawed state payroll and timesheet system to provide public testimony at Senate hearing
When: Tuesday, November 1st at 9:30 AM
Where: Los Angeles City Hall Chambers – Board of Public Works Hearing Room, 200 N Spring St., Room 350, in Los Angeles
Visuals: Enlarged timesheets on foam boards, enlarged timesheet flow chart on foam board, UDW members, and SEIU Local 2015 members.
Follow the conversation: @SEIU2015 @UDWA #PayUsOnTime
About UDW:
United Domestic Workers of America (UDW)/AFSCME Local 3930 is a home care union made up of nearly 94,000 in-home caregivers across the state of California. UDW caregivers provide care through the state's In-Home Supportive Services program (IHSS), which allows over half a million California seniors and people with disabilities to stay safe and healthy at home.
About SEIU Local 2015:
With representational responsibility for over 325,000 home care and nursing home workers, SEIU Local 2015 is the biggest long term care union in California. It is our mission to unleash the collective power of long term care workers, their families, and their communities, harness the power of technology, and build a broad movement to disrupt the unjust status quo in order to bring lasting transformational change towards a more just society for all.