SACRAMENTO, Calif. /California Newswire/ –- Today, the California Film Commission announced the first round of recipients for feature films and independent projects, bringing back jobs and revenue to California as promised by AB 1839, known as the California Film and Television Job Retention and Promotion Act of 2014. The film tax credit program was spearheaded by Assemblymembers Mike Gatto (D-Glendale) and Raul Bocanegra (D-Pacoima).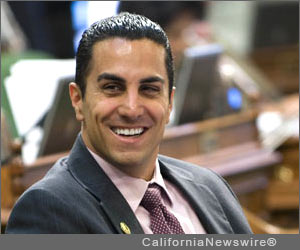 "We worked tirelessly to create an expanded and improved program that would deliver for California. Today's news is exactly what we hoped for — good, middle class jobs returning to the Golden State," said Gatto.
The legislation, introduced by Gatto and Bocanegra in January 2014, was co-authored by more than sixty-five legislators, and received bipartisan support. The bill also had the support of the business and labor community across California because of its focus on high-wage jobs for below-the-line workers. It significantly expanded and improved the state's film tax incentive program to keep production jobs in California, including a five year program extension, an increase in the program's budget allocation to $330 million annually, and the creation of a new competitive jobs rating system to determine which projects will receive the credits.
"I introduced AB 1839 because of the many constituents in my district who told me stories about their families being torn apart because of production fleeing the state," said Assemblyman Gatto. "This program provides stability for families, certainty to small businesses, and will help our communities thrive."
California Film & TV Tax Credit Program 2.0
Program Year 1 – Allocation # 2 Conditionally Approved Projects
Production Title
Company Name
Production Type
Chicken Soup For The Soul
Alcon Entertainment LLC
Indie Project
Code Name Veil
Code Name Veil Movie LLC
Indie Project
Twin Peaks
Rancho Rosa Partnership, Inc.
Indie Project
Action Park
Paramount Pictures Corporation
Non-Indie Feature
Avon Man
20th Century Fox Film Corporation
Non-Indie Feature
Conjuring 2
S&K Pictures, Inc.
Non-Indie Feature
God Particle, The
Paramount Pictures
Non-Indie Feature
Overnight
Robotopia Productions, Inc.
Non-Indie Feature
Untitled Dax Shephard Comedy
Warner Bros. Pictures
Non-Indie Feature
Whale
Newsub 76 Productions, Inc.
Non-Indie Feature
Why Him
20th Century Fox Film Corporation
Non-Indie Feature
Mike Gatto is the Chairman of the Consumer Protection and Privacy Committee, and the longest-serving member of the State Assembly. He represents California's 43rd Assembly District, which includes Burbank, Glendale, La Cañada Flintridge, La Crescenta, Montrose, and the Los Angeles neighborhoods of Atwater Village, East Hollywood, Franklin Hills, Hollywood Hills, Los Feliz, and Silver Lake. www.asm.ca.gov/gatto