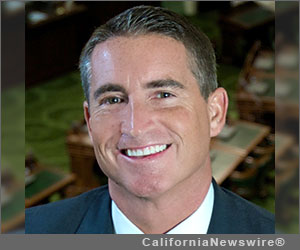 SACRAMENTO, Calif. /California Newswire/ — It was announced today in a message by the United States Secretary of the Navy Ray Mabus that Lt. Commander Jeff Gorell has been selected for promotion to the grade of Commander (O-5) in the Navy (Reserve Component). All California veterans congratulate Commander-select Gorell, a State Assemblyman representing the 44th District, and commend him for this important achievement, the reflection of his 13 years of service in the Reserves and two active duty tours in Afghanistan.
"We congratulate Commander Gorell," said Pete Conaty, who serves as Governmental Advocate for veterans groups. "It's very important that we have veterans serving in elected government who understand veterans issues, military life, and the challenges placed upon families of service members."
A subsequent Navy message will follow today's announcement identifying the exact date Lt. Commander Gorell will be eligible to promote to and wear the new field grade rank. It will likely be in late 2013.
Since 2009, Jeff Gorell, a Navy intelligence officer, has served as Executive Officer (XO) of reserve unit U.S. Strategic Command Joint Space, a team that supports that Joint Space Operations Center at Vandenberg Air Force Base, CA. Lt. Commander Gorell has been selected to attend Space 200 training at Petersen Air Force Base in Colorado Springs, CO, during the month of July.
From March 2011 to March 2012, Gorell was mobilized and deployed to Afghanistan to serve as a targeting officer embedded with the 1st Marine Division, Second Marine Expeditionary Force at Camp Leatherneck in Helmand Province.
Assemblyman Gorell is a 3rd generation Navy veteran. His grandfather was a fighting Seabee in the Pacific in WWII, and his father was a Vietnam veteran with 20-years of service in the Navy.
Gorell is a member of American Legion Post 502 in Moorpark, the Veterans of Foreign Wars Post 9791 in Ojai, and the Past Commander of the Military Order of World Wars in Conejo Valley.
Secretary of the Navy's promotion message can be found here: http://www.public.navy.mil/bupers-npc/reference/messages/Documents/ALNAVS/ALN2013/ALN13039.txt.
Lt. Commander Gorell is a Special Duty Officer for Intelligence.