SACRAMENTO, Calif. /California Newswire/ — Calif. Assemblymember Al Muratsuchi (D-Torrance), Chair of the Veterans Affairs Committee, and Assemblymember Bonnie Lowenthal (D-Long Beach), Chair of the Legislative Women's Caucus, convened a Joint Oversight Committee Hearing in the Capitol to discuss the impacts, issues, and supportive programs associated with Military Sexual Trauma (MST).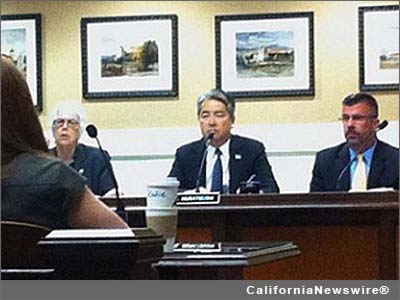 "As Chair of the Veterans Affairs Committee, it is my priority to make our veterans' lives easier and identify areas where the State can provide additional support," said Assemblymember Muratsuchi.
MST survivors and support organizations agreed that one of the greatest inadequacies in addressing this issue is that military justice penalties are far less severe than civilian justice penalties. And while support organizations for victims are available through the state, county and non-profits, they often seek additional legislative support.
"Survivors deserve justice, and they deserve support," said Assemblymember Lowenthal. "We can't sit on our hands waiting for the federal government to act. California can, and will, take steps to prevent these assaults and help survivors and their families heal."
Survivors at the hearing stated that one of the biggest issues victims of sexual assault face is that many times their offenders outrank them or have a high-ranking position within the military that causes their accusations to be ignored. Thus, many times the offender does not receive any penalty and repeats the crime.
Additionally, it was stated that MST leads to physical and mental health problems, relationship issues, alcohol and drug abuse, and even homelessness.
"I am thankful that the panelists were able to join us today to shed light on this very traumatic issue," said Assemblymember Muratsuchi. "This oversight hearing on MST is merely our starting point. We must ensure that our state provides the best services for these victims and the information from this hearing will help us understand where we can be doing more. "
Assemblymember Muratsuchi represents the 66th Assembly District, which includes the cities of Gardena, Hermosa Beach, Lomita, the Los Angeles communities of Harbor City and Harbor Gateway, Manhattan Beach, Palos Verdes Estates, Rancho Palos Verdes, Redondo Beach, Rolling Hills Estates, Torrance and the unincorporated communities of El Camino Village and West Carson.
Please visit the Assemblymember's website, http://asmdc.org/members/a66/ for more information.
VIDEO: http://youtu.be/rEdvPYbNw3o .