SACRAMENTO, Calif. /California Newswire/ — On January 26, 2017, Calif. Senator Tony Mendoza presented Senate Concurrent Resolution 5 which observes January 26, 2017 as India Republic Day and also marks the 68th Anniversary of the day the Constitution of India was adopted.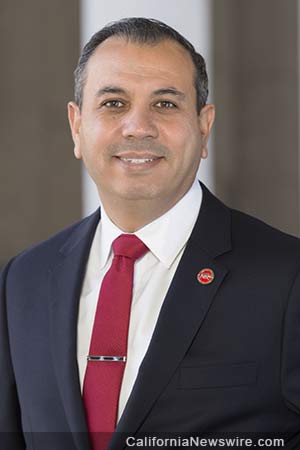 India Republic Day commemorates the day the Indian Constitution came into effect which created the foundation for India's dynamic democratic government. While independence from Britain is celebrated on a different day, India Republic Day represents the day that India, as a democratic whole, agreed to a single document unifying the country under democratic principles.
"We are flying the flag of India at the podium this afternoon in honor of our distinguished guests at the back of chambers. I am honored to take part in the celebration and recognition of India Republic Day," Senator Mendoza said.
"This year, I am joined by two co-authors in the Assembly, Assembly members Ash Kalra and Jim Cooper. They each represent districts that are home to many Indian Americans and have graciously agreed to join me in presenting this resolution.
"India and California share not only a love of democracy, but a vibrant cultural exchange. One example of this will occur later this year, when California hosts the Indian Academy Awards which will be held in Oakland in July," Senator Mendoza continued.
"I thank the Indian Consul General and the Indian-American community of California for sharing the joy of this wonderful day with us. We are privileged to honor its significance, and the Indian peoples' dedication all over the world to core community values of family, service, knowledge and peace," concluded Senator Mendoza.
Guests visiting the Senate Chambers for the event included:
The Honorable Consul General of India in San Francisco Venkatesan Ashok, Cupertino Mayor Savita Vaidhyanathan, Artesia Mayor Ali Taj, Federation of Indo-American Associations of Southern California President Aparna Hande, National Federation of Indian American Associations President Sudip Gorakshakar, Chairman Sumit Rai of STAANCE, President Ajit Natu and Public Relations Officer Y.K. Chalam of the Indian Association of Sacramento.
Senator Tony Mendoza, a Los Angeles native and former elementary school teacher in East Los Angeles, represents the 32nd Senate District encompassing portions of Los Angeles and Orange Counties.