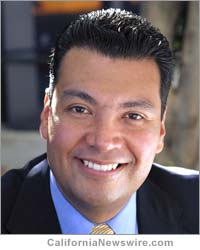 SACRAMENTO, Calif. /California Newswire/ — Today, Calif. Senator Alex Padilla (D-Pacoima), Senator Kevin de Leon (D-Los Angeles) and Senator Ricardo Lara (D-Huntington Park/Long Beach) were joined by representatives of the United Food and Commercial Workers, the California Grocers Association, Environment California, Friends of the L.A. River, Mujeres de La Tierra, Californians Against Waste, and Heal the Bay to announce support for new legislation to ban single-use plastic bags in California grocery stores, convenience stores, and liquor stores.
Last year a similar bill by Senator Padilla fell 3 votes short of the 21 votes needed for passage in the State Senate. At the time, Padilla pledged to redouble his efforts and seek passage of a single-use plastic bag ban this year.
The new bill will be SB 270, which is pending in the Assembly Labor Committee. SB 270 will include language to address concerns regarding potential job losses at manufacturing facilities such as Command Packaging in Vernon where today's press conference took place. Senator Kevin de Leon and Senator Ricardo Lara will be added as joint authors of the bill.
"This bill strikes the right balance. It will not only protect the environment, it will also protect jobs as California transitions to re-usable bags," said Senator Alex Padilla. "Is the bill in the bag? Not yet, but this is a huge step forward," Padilla added.
"SB 270 reflects the hard work and commitment of a broad coalition of business, labor and environmental groups to do the right thing for our economy and environment," said Senator Alex Padilla. "Working with both Senator De Leon and Senator Lara was key to moving this new bill forward. I took their concerns seriously and I believe the language in the bill is responsive to their concerns," Padilla said.
"This plastic bag ban is a win-win for the environment, for California manufacturing and for jobs," said Senator De Le?n. "We need to balance the health of the planet with the preservation of people's livelihoods and recognize the economic conditions faced by businesses in California. This compromise will bridge the gap and help move the economy forward into a green future."
"Through this proposal we've proven that sound environmental policy does not have to come at the expense of good manufacturing jobs – we can have both. I am proud to join my colleagues in supporting this bill because it protects our environment by phasing out plastic bags while also protecting workers in my district and throughout California," said Senator Ricardo Lara.
"As the largest private sector union in the Grocery Food Retail Industry representing over 150,000 workers in California, we strongly support the efforts of our legislative leaders to ban plastic bags and re-invest its projected long-term savings in workers training programs and food safety initiatives for consumers," declared Jim Araby, Executive Director, United Food and Commercial Workers Western States Council.
"It is a monumental day for California. Three great leaders have come together to support a measure to foster innovation, safeguard businesses and protect California's treasured natural resources. We are grateful to Sens. Padilla, De Le?n and Lara for listening to the concerns of Californians and for bravely standing up for California. They have crafted a measure that will foster a market for innovation and enact consistent rules to protect cities, counties and businesses from the existing patchwork of compliance standards. This measure has the support of labor, business and the environmental community. California's grocers stand ready to do our part to make California a global leader in the shift away from single-use plastic grocery bags. There is no reason whatsoever now that California cannot finally make this measure a reality," said Ronald Fong, President & CEO, California Grocers Association.
A coalition of environmental, labor, and business groups are supporting SB 270 (Padilla, De Leon, Lara), including Californians Against Waste, Environment California, Heal the Bay, Clean Seas Coalition, California League of Conservation Voters, Coastkeepers, Surfrider, United Food and Commercial Workers (UFCW) Western States Council, California Grocers Association, and the California Retailers Association.
"SB 270 will help protect our environment by phasing out single-use bags in California. Single-use plastic bags fill our landfills, clog inland waterways, littler our coastline, and kill thousands of fish, marine mammals and seabirds," said Senator Padilla.
The new bill, SB 270 will:
Prohibit, beginning July 1, 2015, grocery stores and pharmacies from making available single-use plastic bags. If paper bags are offered to customers, they would have to include recycled content.
Prohibit, beginning July 1, 2016, convenience stores and liquor stores from making available single-use plastic bags.
Not pre-empt local ordinances already in place.
Provide competitive loans and grants for the conversion to reusable bag manufacturing on the condition that workers are retained and retrained during the phase-out of single-use plastic bags.
Senator Padilla authored SB 405 last year in order to phase out the more than 14 billion single-use plastic bags that are handed out by retailers. According to the US EPA, 88% of plastic bags and sacks are not recycled. In California, only 5% are recycled, according to CalRecycle. Single-use plastic bags increase costs to local governments for clean-up because so few of the bags are recycled. There is also a very real environmental cost to marine life, birds and other wildlife. Based on the experience of local jurisdictions that have enacted ordinances a statewide policy would save local governments millions of dollars annually. The combined cost of single-use plastic bags to California consumers and state and local government for use, clean-up and disposal is estimated to be in the tens of millions of dollars annually. Ninety California communities have already enacted ordinances banning plastic bags. In doing so, many of these communities have eliminated the significant costs associated with plastic bags, as well as substantially reduced the volume of bags entering their landfills.
"It is encouraging to see plastic bag manufacturers such as Command Packaging already transitioning to producing re-usable bags which contain recycled content. They recently opened Encore Recycling in Salinas, California which uses plastic agricultural film to produce re-usable bags. This type of innovation and job creation is critical to transitioning California to a greener economy," added Padilla.
Senator Alex Padilla, 40, graduated from MIT with a degree in Mechanical Engineering. He currently serves on the Board of MIT and is President of the National Association of Latino Elected and Appointed Officials. He is Chair of the Senate Energy, Utilities and Communications Committee and represents the more than 1,100,000 residents of the 20th State Senate District in Los Angeles. More info: http://senate.ca.gov/ .