SACRAMENTO, Calif. /California Newswire/ — The State Senate yesterday gave final approval on a bill to address childhood hunger and improve access to the National School Lunch and Breakfast Programs on a unanimous bipartisan concurrence vote of 39 to 0. The bill was approved earlier this week by the State Assembly 79 to 0. SB 708, authored by Senator Tony Mendoza (D-Artesia), a former elementary school teacher, will direct schools to make applications for free or reduced-price meals available electronically online, to provide them in multiple languages and to follow uniform standards. The bill now goes to Governor Brown for his consideration.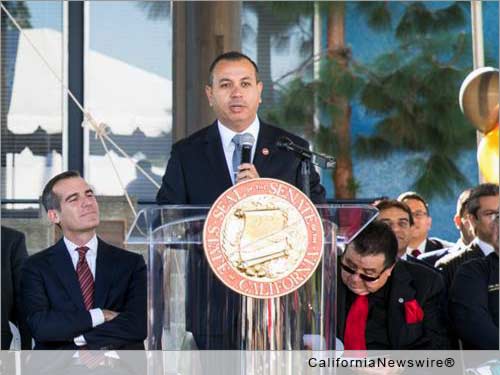 "No child in our state should go hungry," said Senator Tony Mendoza. "My bill will improve access and participation in federally funded school meal programs by ensuring that schools provide the applications online and offer them in multiple languages. My hope is that the bill will help better serve the needs of a diverse student population."
"It is simply unconscionable that there are children who go throughout the school day hungry due to something as simple as a language barrier or the inability to access an online application. SB 708 is a simple fix that will enable thousands of children at a minimum to get one meal a day," added Senator Mendoza.
Said Jessica Bartholow, Legislative Advocate for California's Western Center on Law and Poverty, "Child hunger is an indignity that no child should experience, yet approximately 16 million children in America do. SB 708 will remove barriers to apply for benefits for homeless, migrant and refugee families and will make California the first state in the country to have a law protecting the privacy rights for parents and children who apply for the federal School Meal Program online."
The National School Lunch Program and the School Breakfast Program are federally funded meal programs operated in public and nonprofit private schools and residential child care institutions. They provide nutritionally balanced, low-cost or free breakfasts and lunches to children each school day. The National School Lunch Program was established in 1946 and the School Breakfast Program in 1966. In California, all public schools, except charter schools, must serve at least one free or reduced-price meal during the school day.
SB 708 will require every school that currently provides online access to free or reduced price meal program applications to make them available in multiple languages. In addition, the bill requires the online application be uniform and comply with child privacy rights and disclosure protections. Currently, school districts are not required to provide free or reduced meal program applications electronically online or follow any uniform standards.
In 2012-13, approximately 3.7 million of California's 6.2 million school children were eligible for free or reduced-price school meals. To be eligible for the meal programs, the household income for a family of four must be less than $43,000.
According to the California Department of Education, during the 2012-13 school year, more than 3.1 million students participated in the National School Lunch Program and more than 1.3 million in the School Breakfast Program.
"In California, more than 2 million children live in poverty and are in danger of going hungry. Research has shown that hunger in children has a lasting impact on their health and success in the classroom. We must do everything we can to end childhood hunger, because these children are California's future," said Senator Mendoza.
Senator Tony Mendoza, a Los Angeles native and former elementary school teacher in East Los Angeles, represents the 32nd Senate District encompassing portions of Los Angeles and Orange Counties.