SACRAMENTO, Calif. /California Newswire/ — Calif. Assemblyman Mike Gatto (D-Glendale) and the members of his Assembly Committee on Privacy and Consumer Protection marked a success today after the California Employment Development Department (EDD) announced it will now redact Social Security numbers on letters mailed to Californians receiving Unemployment Insurance (UI) benefits. Last year, EDD mailed letters containing full Social Security numbers to 2.9 million Californians, increasing the risk that millions might become victims of identity theft. This year, CBS San Francisco's Julie Watt reported about the issue after receiving complaints from Californians about this potential security risk.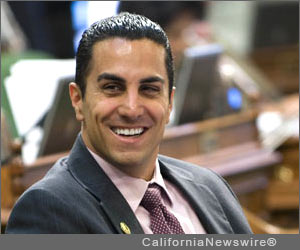 "I was dismayed when the problem was uncovered in July, but I am pleased that EDD has acted after we expressed that dismay," Gatto said.
In the early 2000s, the California Legislature passed laws to protect the confidentiality of SSNs and prevent identity theft. Since then, credit unions, health plans, and state agencies, including California's three public college systems, have stopped using SSNs as bank account numbers, health plan numbers, customer identification numbers, and student identification numbers. Despite the widespread phase-out of SSNs as primary identifiers, EDD has continued to use the Social Security number as the key identifier in written correspondence to Californians who receive unemployment insurance (UI) benefits.
"Printing full Social Security numbers on millions of letters sent through the mail is unacceptable," said Gatto. "We've known for years that criminals use SSNs to steal people's mail and then steal people's identities, leaving victims with a time-consuming repair process and ruined credit."
In contrast, EDD's "UI Online" system does not use Social Security numbers and is entirely electronic. UI Online went live in April 2015 and, according to EDD, is faster and more secure than using paper to apply for and receive unemployment benefits. About 20% of people who receive unemployment use UI Online instead of paper.
"I applaud EDD's quick response to my committee's inquiry, and we'll be working closely with EDD to make sure it phases out the use of SSNs as quickly as possible," said Gatto. "This is a good example of an administrative agency being responsive to legislators and fixing an issue to avoid the need for legislation."
Mike Gatto is the Chairman of the Assembly Privacy and Consumer Protection Committee, and the longest-serving current member of the State Assembly. He represents California's 43rd Assembly District, which includes Burbank, Glendale, La Cañada Flintridge, La Crescenta, Montrose, and the Los Angeles neighborhoods of Atwater Village, East Hollywood, Franklin Hills, Hollywood Hills, Los Feliz, and Silver Lake. www.asm.ca.gov/gatto