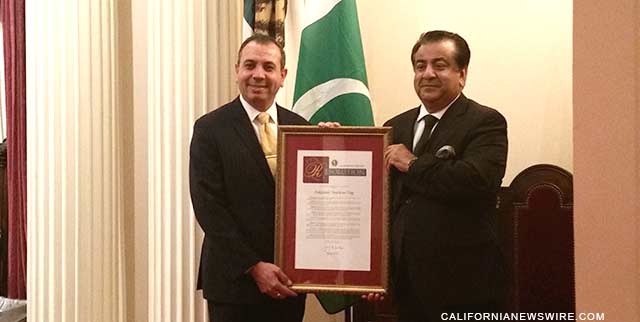 SACRAMENTO, Calif. /California Newswire/ — The Calif. State Senate today recognized the contributions of California's Pakistani-American community by adopting Senate Concurrent Resolution (SCR) 105 by Senator Tony Mendoza (D-Artesia), declaring March 23rd, 2016 as "Pakistani American Day." A special ceremony held on the Senate floor following the vote featured the Consul General of Pakistan, Abdul Jabbar Memon, and Artesia Mayor Pro-Tem Ali Sajjad Taj, and Pakistani American dignitaries from throughout the state.
"Today, the California State Senate paid tribute to the contributions of the Pakistani-American community to the diverse fabric of California. SCR 105 declares March 23rd, 2016 as 'Pakistani American Day' and provides the people of our state an opportunity to recognize the achievements, contributions, and history of this vibrant community," said Senator Tony Mendoza.
"It's a great privilege and pleasure to be in Sacramento to witness the approval of Senate Concurrent Resolution 105. It is a fitting tribute to the patriotism, contributions, and achievements of the Pakistani-American diaspora in California. We at the Consulate General are proud of our community and express our gratitude to the Honorable Tony Mendoza for spearheading this meaningful and befitting resolution," said Consul General of Pakistan, Abdul Jabbar Memon.
"It is truly a historic moment for the Pakistani-American community here in California. I know people have traveled from San Diego, Los Angeles, and Sacramento to witness this momentous occasion. I am excited to be a part of this day and I extend my sincere thanks to Senator Mendoza," said Artesia Mayor Pro-Tem Ali Sajjad Taj.
In Pakistan, March 23rd is a national holiday known as Pakistani Resolution Day commemorating the signing of the Lahore Resolution and the adoption of the first Pakistani constitution. The 1940 Lahore Resolution called for the creation of a sovereign Muslim state called Pakistan. In 1973, a constitution was adopted that established Pakistan as a parliamentary democracy with three branches of government and a Prime Minister. Today Pakistan is considered a parliamentary republic, with the head of state elected by parliament and state legislators.
Added Senator Mendoza, "In California, Pakistani Americans are an integral part of our state, having made great contributions in the fields of finance, technology, law, medicine, education, sports, media, the arts, the military, and government. It seems fitting that March 23rd, 2016 be celebrated as Pakistani American Day."
Currently, there are nearly 47,000 people of Pakistani heritage residing in California. Ten percent of all exports from the United States to Pakistan come from California. Pakistani American Day helps to raise awareness and appreciation regarding the contributions, historical and ongoing, of Pakistani Americans to the state's rich ethnic and cultural diversity and to the economy.
Senator Tony Mendoza, a Los Angeles native and former elementary school teacher in East Los Angeles, represents the 32nd Senate District encompassing portions of Los Angeles and Orange Counties. For more information about Senator Mendoza visit his website http://sd32.senate.ca.gov/node/4