SACRAMENTO, Calif. /California Newswire/ — The California Legislative Black Caucus (CLBC) today announced its support for SB 3 (Leno), landmark legislation that would increase California's minimum wage to fifteen dollars ($15.00) per hour by 2022.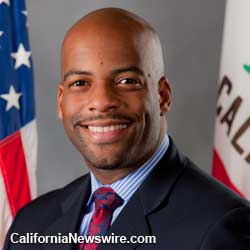 In announcing the CLBC's support, Caucus Chairman, Senator Isadore Hall, III released the following statement:
"The California Legislative Black Caucus is proud to support SB 3 (Leno), which will increase California's minimum wage to $15.00 and lift millions of Californians out of poverty. No American who puts in a full day of work should have to live in poverty. Yet, for too long, too many African American Californians have been failed by a minimum wage that kept generations in a cycle of deficit, deficiency and despair.
For African Americans, increasing the minimum wage is a matter of fundamental economic justice. Justice for the single parent that has been forced to work three part-time jobs to put food on the table and rent a safe place to call home. Justice for the formerly incarcerated person who will be able to provide for themselves instead of falling back into a cycle of recidivism. Justice for the millions of families that are too often less than a paycheck away from homelessness.
California will never win an economic race to the bottom, where worker wages are depressed and worker safety is compromised. We are a stronger people and a stronger state when we lift each other up and build an economy in which we can all participate and succeed. We stand strongly with the millions of Californians that have fought to #Fightfor15 and thank them for their tenacity and commitment to economic justice for all Californians."
SB 3 (Leno) will be voted on by the California State Assembly and the California State Senate on Thursday, March 31, 2016.
The California Legislative Black Caucus (CLBC) is comprised of twelve (12) Legislators from throughout California and works towards achieving full inclusion, participation and opportunity for African Americans living, working and learning in California.