CLAREMONT, Calif. /California Newswire/ — In light of the recent tragic events in San Bernardino, California and around the world, Claremont Lincoln University on Dec. 15 hosted a live digital roundtable that explores the current intersection between faith, conflict, and the skills needed to build a community of peace. The 30 minute discussion is currently streaming on the university's YouTube channel.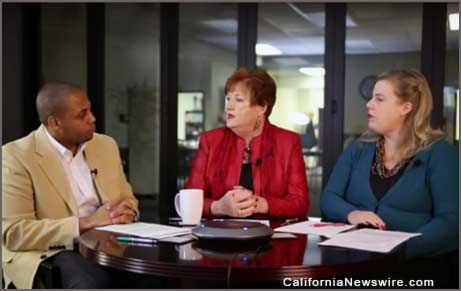 "We assembled the Roundtable because we think it is important to address the underlying issues that surround violence and to suggest pathways to becoming a more civil society," said Claremont Lincoln University President Eileen Aranda, Ph.D. "We based our suggestions from our own Claremont Core program which sets forth the skills necessary to co-create positive social change."
In an era characterized by religious pluralism and ideological polarization, one of Claremont Lincoln University's programs is the Master's in Interfaith Action program that is designed for leaders already working in faith-based organizations, religious communities, and other public arenas such as governmental agencies, NGOs, and the civil service, in which religious multiplicity can simultaneously be a source of conflict and a rich resource for positive change. The MA Degree equips such leaders for deeper understanding and more effective social engagement for individual transformation, organizational leadership and sustainable social change.
The roundtable participants included: Eileen Aranda, Ph.D., president of Claremont Lincoln University, noted public speaker and author on compassionate leadership; Keith Burton, Ph.D., Director for the Center for Adventist Muslim Relations; Ayse Kadayifci-Orellana, Ph.D., Interim Associate Director and Visiting Assistant Professor at Georgetown University's Master of Arts program in Conflict Resolution; Stephanie Varnon-Hughes, Ph.D., Director of Cross-Cultural & Interfaith Programs, an award winning teacher and interfaith leader; and Darrell Ezell, Ph.D., Director of the Master of Arts in Interfaith Action program and the Center for Religion, Culture, and Foreign Affairs.
About Claremont Lincoln University:
Founded in 2010, CLU is a unique, pluralistic graduate university that offers innovative, 21st Century educational programs with a secular global perspective designed to bridge the social divides by cultivating the engagement skills of mindfulness, dialogue and collaboration that transcend cultural, religious, ideological, and economic barriers. The university offers Masters programs in Social Impact, Ethical Leadership and Interfaith Action. Students are taught to integrate self-knowledge with critical perspectives and contemporary skills to create sustainable social change.
Photo Caption: L-R Darrell Ezell, Ph.D., Eileen Aranda, Ph.D., Stephanie Varnon-Hughes, Ph.D.; courtesy Claremont Lincoln University.