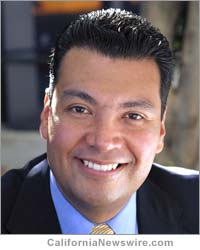 SACRAMENTO, Calif. /California Newswire/ — A pair of English Learner reform bills authored by Senator Alex Padilla (D-Pacoima) have been signed by Governor Brown. SB 1108 would reform the English Learners reclassification system by identifying and implementing uniform statewide best practices. SB 754 would require school districts to post online the Economic Impact Aid they receive for each school and district. Economic Impact Aid is $1 billion in supplemental funds provided by the state to school districts to meet the needs of English Learners and low-income students.
The bills go into effect on January 1, 2013.
"I want to thank Governor Brown for signing these two bills that will help reform California's English Learner reclassification system and provide greater transparency for the more than one billion dollars in supplemental funds that our schools receive each year to help students achieve English proficiency," said Senator Alex Padilla.
"Despite our public schools receiving more than one billion dollars in supplemental funds each year to meet the needs of English Learners, only 11 percent of English Learners achieve fluency each year and some students become so-called 'Long Term English Learners' and never achieve fluency. This is unacceptable. Academic success and career and college readiness hinge on English proficiency. It is imperative that we apply best practices statewide and do a better job of helping our students achieve English fluency," said Senator Alex Padilla.
Referring to SB 754, on transparency for Economic Impact Aid, Padilla stated, "It is vital that parents and the public know how their funds are being used to help educate English Learners. Requiring school districts to publicly post this information online will provide transparency and greater accountability," said Senator Alex Padilla.
Specifically, SB 1108 requires that by January 1, 2014 the California Department of Education (CDE) review and analyze the criteria, policies, and practices that local school districts use to deem English Learner students proficient and reclassify them into mainstream classes. In addition, it calls on the CDE to recommend to the Legislature and the State Board of Education any guideline, regulation or statutory changes necessary to improve the English Learner reclassification system.
SB 754 would require school districts to post online and in an easily accessible location the economic impact aid budget for the school district and each school within the school district. This bill would also require the CDE to determine whether each school district receiving economic impact aid funds is using proven methods of teaching English Learners.
One and one-half million California students are English Learners and more than 85 percent of English Learners are Latino and live in poverty.
"English proficiency opens doors of opportunity and directly impacts the economic sustainability of our state," said Senator Padilla. "English Learner students are a quarter of our future workforce. We must do everything we can to ensure their academic success," Padilla added.
Annually,
* only 11 percent of English Learners reach English proficiency,
* only 56 percent of English Learners graduate from high school,
* only 13 percent of English Learners go to college.
As Chair of the Select Committee on English Learners, Senator Padilla has held a series of policy hearings this year focused on how to improve the English Learner system within the context of Governor Brown's proposal to change the K-12 funding formula to a "weighted" student formula.
Senator Alex Padilla, 39, graduated from MIT with a degree in Mechanical Engineering. He currently serves on the Board of MIT and as President of the National Association of Latino Elected and Appointed Officials. He is Chair of the Senate Energy, Utilities and Communications Committee and represents the more than 900,000 residents of the 20th State Senate District which includes most of the San Fernando Valley in Los Angeles.