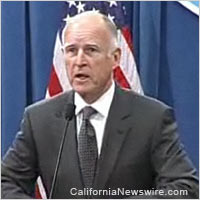 SACRAMENTO, Calif. /California Newswire/ — Governor Edmund G. Brown Jr. released a revised state budget today that protects funding for education and public safety while slashing $8.3 billion from government to close a $15.7 billion deficit and get California back on track.
"This budget reflects the fact that the nation's economic recovery is proceeding more slowly than anticipated," said Governor Brown. "Lower tax revenues, coupled with federal government obstructions that blocked billions in necessary cuts, have created a deeper budget hole. More painful reductions will be necessary as a result, but education and public safety must be protected."
The revised May budget slashes spending in almost every part of government, but proposes a 16 percent increase in funding for K-12 education, subject to voter approval.
It also continues funding to local governments that are implementing public safety realignment, and proposes legislation to create a permanent funding structure so that local governments will have a reliable funding source into the future.
"We can't balance the budget with cuts alone; that would just further undermine our public schools," said Governor Brown. "The budget I am proposing will boost funding for education, protect public safety and prevent an even deeper round of trigger cuts."
To achieve this goal, Governor Brown has placed an initiative on the November ballot that will increase money for schools and provide constitutional protection for public safety funding. The measure will enact temporary income tax increases on high-income earners. It will raise income taxes by up to three percent on the wealthiest Californians for seven years and will also increase the state sales tax by one quarter of one percent for four years.
Governor Brown's measure works with the framework of the state budget, so it will increase funding for schools and protect public safety funding while also stemming cuts to other critical safety net programs.
"My proposal is modest, fair and temporary," said Governor Brown. "It won't solve all of the state's problems, but it will help dig us out of a deep hole and protect our schools until the recovery is complete."
The May Revision proposes cuts far deeper than those in the January budget. It increases cuts by $4.1 billion, bringing total cuts to state employee compensation, welfare, health care, higher education, courts, and other critical government programs to $8.3 billion.
If the Governor's tax initiative does not pass in November, $6 billion in additional cuts will go into effect on January 1.
"I don't like making additional cuts, and I recognize the impact they have on Californians. They are difficult – but necessary – in order to get us back on firm fiscal footing until California fully recovers from the global economic recession," said Governor Brown.
The revised May budget builds on the progress that has been made in tackling the $26.6 billion deficit inherited from the previous administration. Last year, Governor Brown signed an on-time budget that slashed $16 billion from the budget and shifted California's credit outlook from negative to positive.
The 2011-2012 budget cut funds for state programs, made state government more efficient through consolidation and reorganization and moved government closer to the people through realignment.
Through the budget and executive actions, Governor Brown has already slashed billions from state prison costs and banned costly government perks like cell phones, travel, vehicles and freebies. He also permanently shrank state government through the elimination of 30,000 positions.
Significant details of the revised 2012-2013 budget:
Increases Funding for K-12 Education
Under the Governor's proposal, funding for K-12 education would receive an increase of 16 percent, subject to voter approval. State funding for K-12 schools would increase from $29.3 billion in last year's budget to $34.0 billion by the end of 2013.
Keeps Higher Education Affordable for Low-Income Students
The revised budget proposes that the state award Cal Grants using the same methodology that determines eligibility for Federal Pell Grant awards. This would ensure that the neediest applicants – who constitute some 63 percent of Cal Grant recipients – continue to receive the maximum award. Students with higher family incomes will receive reduced assistance.
Protects Public Safety
The revised budget continues to fund local governments that are implementing public safety realignment. It proposes a permanent funding structure so that local governments will have a reliable funding source into the future.
Cuts State Employee Compensation Costs
The revised budget includes a 5 percent cut to state employee compensation costs. This will be achieved through a reduced workweek or a commensurate reduction in work hours and pay.
Provides Funding for Existing Homeowner and Consumer Assistance Programs
Existing assistance programs for homeowners and consumers affected by the mortgage crisis will be funded with proceeds from the National Mortgage Settlement, resulting in $292 million in General Fund savings.
Funding court budgets from alternative sources
This year's budget restructures trial court funding, reducing General Fund support by $300 million on a one-time basis and requiring each trial court to use their available reserve. It delays court construction for a savings of $240 million and increases retirement contributions for state court employees. Altogether, these will result in $125 million in ongoing savings.
Reduces Corrections Spending
In April 2012, the administration released a comprehensive plan to save billions of dollars, end federal oversight, and improve the prison system. As a result of this plan, the California Department of Corrections and Rehabilitation expects to save $1 billion in 2012-13 and $1.5 billion in 2015-16 while satisfying the U.S. Supreme Court's order to reduce the prison population.
??
The Governor's news conference will be streamed live this morning at 10:00 a.m. at www.calchannel.com. The budget, in full, will be posted online shortly after the news conference begins at: www.dof.ca.gov.