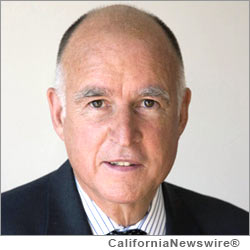 SACRAMENTO, Calif. /California Newswire/ — On Wednesday, Calif. Governor Edmund G. Brown Jr. announced that he has signed the following bills which include AB 148 by Assemblymember V. Manuel Pérez (D-Coachella) – Salton Sea restoration, and AB 474 by Assemblymember Mark Stone (D-Scotts Valley) – California Coastal Commission: ex parte communications: disclosure forms.
ADDITIONAL BILLS SIGNED INTO LAW INCLUDE:
• AB 1101 by Assemblymember Wesley Chesbro (D-Arcata) – Vehicles: State Highway Route 101: carriers of livestock.
• AB 1561 by Assemblymember Freddie Rodriguez (D-Pomona) – Taxpayer contributions: California firefighters' and peace officer memorial funds.
• AB 1627 by Assemblymember Jimmy Gomez (D-Los Angeles) – Vehicles: registration services: disclosure of service fees.
• AB 1722 by Assemblymember Frank Bigelow (R-O'Neals) – Cattle protection.
• AB 1768 by Assemblymember Paul Fong (D-San Jose) – Declaration of candidacy: residence address.
• AB 1796 by Assemblymember Eric F. Linder (R-Corona) – Franchise Tax Board: refunds: direct deposit: taxpayer form instructions.
• AB 1817 by Assemblymember Jimmy Gomez (D-Los Angeles) – Voter registration: high school pupils.
• AB 2749 by the Committee on Jobs, Economic Development, and the Economy – Economic development.
• SB 469 by Senator Ellen Corbett (D-Hayward) – Vehicles: aerodynamic vehicles.
• SB 1464 by the Committee on Governance and Finance – Property taxation.
The following bill will become law without the Governor's signature.
• SB 1272 by Senator Ted W. Lieu (D-Torrance) – Campaign finance: advisory election. A message can be found here.
For full text of the bills, visit: http://leginfo.legislature.ca.gov