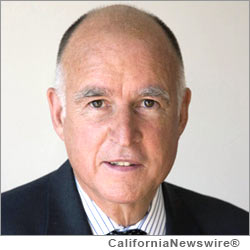 SACRAMENTO, Calif. /California Newswire/ — Governor Edmund G. Brown Jr. today announced that he has signed the following bills: AB 482 by Assemblymember Das Williams (D-Santa Barbara) – Ventura Port District: dredging contracts. AB 1199 by Assemblymember Julia Brownley (D-Santa Monica) – School bonds: citizens' oversight committee.
ALSO:
• AB 1253 by Assemblymember Mike Davis (D-Los Angeles) – Counties: recommended budget.
• AB 1422 by Assemblymember Henry Perea (D-Fresno) – Safe, Clean, and Reliable Drinking Water Supply Act of 2012: submission to voters.
• AB 1631 by Assemblymember William Monning (D-Santa Cruz) – Arbitration: legal representation.
• AB 1654 by Assemblymember Paul Cook (R-Yucaipa) – Public employment: disqualification from employment.
• AB 1683 by Assemblymember Curt Hagman (R-Chino Hills) – Revocable trusts.
• AB 2125 by Assemblymember Isadore Hall (D-Los Angeles) – School district employees: merit system: appointments.
• AB 2301 by Committee on Insurance – California Insurance Guarantee Association: definitions.
• AB 2308 by Assemblymember Norma Torres (D-Pomona) – Land use: housing element: regional housing need.
• AB 2664 by Committee on Public Employees, Retirement and Social Security – County employees' retirement: electronic signatures.
• AB 2667 by Committee on Banking and Finance – Personal property: fraudulent transfers.
• AB 2668 by Committee on Banking and Finance – Corporate agents: indemnification.
• AB 2698 by Committee on Local Government – Cortese-Knox-Hertzberg Local Government Reorganization Act of 2000.
• SB 991 by Senator Sharon Runner (R-Antelope Valley) – Marriage: solemnization.
• SB 1069 by Senator Ellen Corbett (D-San Leandro) – Deficiency judgments.
• SB 1131 by Senator Doug La Malfa (R-Butte) – Public cemetery districts: interments.
• SB 1254 by Senator Doug La Malfa (R-Butte) – Peace officers: deputy sheriffs.
• SB 1316 by Senator Loni Hancock (D-Berkeley) – School attendance: early and middle college high schools.
• SB 1351 by Senator Michael Rubio (D-Bakersfield) – Peace officers.
• SB 1365 by Senator Gloria Negrete McLeod (D-Chino) – Emergency medical services: immunity.
• SB 1388 by Senator Mark DeSaulnier (D-Concord) – Parking: parking meters.
• SB 1436 by Senator Alan Lowenthal (D-Long Beach) – Automated external defibrillators.
• SB 1574 by Committee on Judiciary – Discovery: electronically stored information.
For full text of the bills, visit: http://leginfo.ca.gov/bilinfo.html.