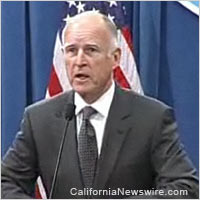 SACRAMENTO, Calif. /California Newswire/ — Governor Edmund G. Brown Jr. today announced that California has dispatched a team of experts to assist in the Yellowstone River oil spill response. The deployment of California Department of Fish and Game (DFG) staff was approved after the State of California received a request from the State of Montana for mutual aid assistance following a pipeline break on July 1, 2011.
"California is well prepared to deal with oil spills. Our training and experience allowed us to help the Gulf Coast states during last year's massive spill, and it lets us help Montana now," said Governor Brown.
DFG's Office of Spill Prevention and Response (OSPR) is deploying an incident manager, pipeline technical specialist, response operations manager, environmental specialist and a shoreline assessment expert to the site for 14 days.
On July 1, a break occurred in a 12-inch pipeline owned by ExxonMobil which resulted in release of crude oil into the Yellowstone River approximately 20 miles upstream of Billings, Mont. The U.S. Environmental Protection Agency reported an estimated 1,000 barrels of oil entered the river, which was in flood stage, before the pipeline was cut off. California will be reimbursed for all costs associated with its assisting in the response.
"We have worked hard to develop our oil spill response staff in California," said Scott D. Schaefer, OSPR acting administrator. "We deployed 70 Fish and Game personnel last year to the Deepwater Horizon spill in the Gulf of Mexico. Requests for our assistance from other states serve as a testament to our team's knowledge and skills."
CalEMA and DFG have been coordinating the mutual aid assistance with Montana Governor Brian Schweitzer's office, the Montana State Emergency Coordination Center and the Montana Department of Military Affairs.
OSPR was formed by legislation in 1991 in response to two significant oil spills: the 11-million-gallon Exxon Valdez spill in Alaska in 1989 and the 416,000 gallon American Trader oil spill in Huntington Beach in 1990.