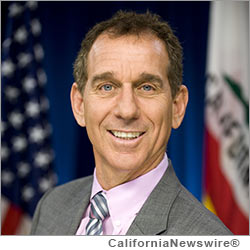 SACRAMENTO, Calif. /California Newswire/ — Low-income earners facing wage garnishment will be able to keep a little more money to make ends meet after Governor Jerry Brown signed a bill yesterday authored by Assemblymember Bob Wieckowski (D-Fremont).
AB 1775 provides a modest increase on the amount of wages that are exempt from wage garnishment. Current law only protects $217.50 per week. That amount is not even considered a living wage for a single adult with no spouse or children.
"For the working poor in California who are barely hanging on financially, this bill will provide a modest increase to exempt the first $320 of income from garnishment," Wieckowski said. "The extra $100 a week will enable people to afford more groceries or help them pay the rent. The Governor's action will help families during these tough times."
The existing low level of exemption leaves many families in perilous financial situations. The alternatives are filing for bankruptcy, which could mean that no creditors get paid, or obtaining a claim of exemption, which often takes months.
Thirty states have increased the garnishment protections beyond the federal level. Some states, such as Pennsylvania, Texas and South Carolina do not allow wage garnishments for consumer debts.
AB 1775 was supported by the Western Center on Law & Poverty, Legal Services for Seniors, the Public Law Center, Central California Legal Services, the California Labor Federation and other organizations.
The bill cleared the state Senate 22-16 and passed the Assembly 51-28.
Governor signs AB 1680:
California will be more attractive to corporations looking to incorporate in our state now that Governor Brown signed Wieckowski's AB 1680. The bill changed the way fair market value is determined in order to make the value truly accurate. It also removed an anomaly in California law. Under the new law, in a merger or transaction where shareholders of a publicly-traded California target corporation are receiving publicly-traded shares of the buyer, any shareholders who dissent will simply sell their shares on the open market as opposed to forcing a cash payout from the company. California was the only state that used this cash payout rule and not only was it an unnecessary restraint on existing public companies in the state but it discouraged new businesses from incorporating in California as well.
Assemblymember Wieckowski represents the 20th Assembly District, which comprises all of Fremont, Newark, Union City and Milpitas, and parts of Pleasanton, Hayward, Castro Valley and San Jose.