LOS ANGELES, Calif. /California Newswire/ — Taking action to fast-track the creation of thousands of jobs, Governor Edmund G. Brown Jr. on Tuesday signed legislation to streamline environmental review for key construction projects. The two bills, signed during a ceremony at the proposed site of the Farmers Field stadium, are expected to drive hundreds of millions in economic investment while ensuring all projects meet California Environmental Quality Act (CEQA) criteria.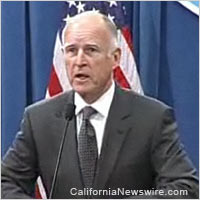 "It's time for big thinking and big projects that put Californians back to work," said Governor Brown. "Projects like Farmers Field can create thousands of jobs during a tough economic time, so it is imperative for the state to cut the red tape that could delay projects like this for years. These bills strike the right balance between protecting our environment and kick-starting jobs and investment in California."
Governor Brown signed the Jobs and Economic Improvement Through Environmental Leadership Act of 2011, AB 900, during a ceremony at the Los Angeles Convention Center, at the proposed site of the Farmers Field stadium. The bill, authored by Assemblymember Joan Buchanan (D-San Ramon) and Senate President pro Tem Darrell Steinberg (D-Sacramento), establishes an expedited regulatory review for projects designated by the Governor as "leadership projects."
Under AB 900, these projects are not exempt from CEQA, but will go through a fast-track judicial review process in California's Court of Appeal.
The Governor also signed SB 292 by Senator Alex Padilla (D-Pacoima), which designates the Farmers Field NFL football stadium as a leadership project subject to a streamlined review that mirrors AB 900. It enacts a strict set of criteria for the stadium's construction, requires the project to be carbon neutral, mitigates impacts on traffic and air quality, and establishes a less onerous review process. The only review timeframe reduced by SB 292 impacts the City of Los Angeles and the developer, who will now have 5 days—rather than 30—to reply to project challengers, who retain the timeframes already laid out by CEQA.
"I'm pleased the Governor has signed the legislation to move the Farmers Field and Convention Center Project forward in a way consistent with California's environmental laws," said Assembly Speaker John A. Pérez (D-Los Angeles). "This project will create 23,000 jobs for our economy while building the most environmentally advanced stadium in the United States. This stadium will be a source of pride for every Californian."
"There is no more important priority than creating jobs for Californians and growing our economy," said Senator Steinberg. "These bills will create tens of thousands of new jobs for hardworking people in Los Angeles and throughout our state, while also respecting the quality of life and environment California is famous for around the world."
Construction of the 68,000 seat stadium is expected to generate more than 10,000 jobs, bringing in an estimated $40 million a year to the city, county and state. AEG's design for Farmers Field would make it "the most environmentally friendly stadium in the nation," a LEED-certified facility with a net zero carbon footprint.