SACRAMENTO, Calif. /California Newswire/ —  Taking action to revamp California's bail system, Governor Edmund G. Brown Jr. on Tuesday (Aug. 28) signed Senate Bill 10, the California Money Bail Reform Act, which preserves the rights of the accused, while prioritizing public safety.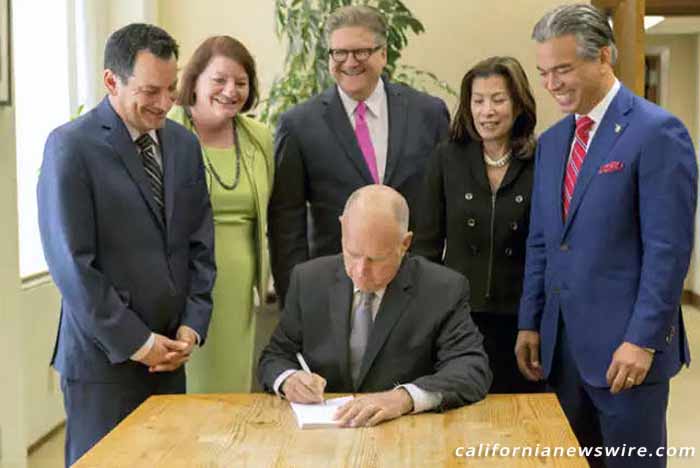 The new law – which will take effect on October 1, 2019 – establishes a new system for determining a defendant's custody status while they await trial based on an assessment of risk to public safety and probability of missing a court date rather than their ability to pay cash bail.
"Today, California reforms its bail system so that rich and poor alike are treated fairly," said Governor Brown.
Governor Brown signs SB 10. Left to right: Assembly Speaker Rendon, Senate President pro Tempore Atkins, Governor Brown (seated), Senator Hertzberg, Chief Justice Cantil-Sakauye and Assemblymember Bonta.
This action delivers on the commitment made last August by Governor Brown, California Chief Justice Tani Cantil-Sakauye and the bill's authors – Senator Robert Hertzberg (D-Los Angeles) and Assemblymember Rob Bonta (D-Alameda) – to work together on long-needed reforms in the second year of the two-year legislative session.
"This is a transformative day for our justice system. Our old system of money bail was outdated, unsafe, and unfair. It took a three-branch solution with Governor Brown, the Legislature led by Senator Hertzberg and Assemblymember Bonta, and the Judicial Council's Administrative Director Martin Hoshino working with judges in my Pretrial Detention Reform Work Group to bring about a fair and just solution for all Californians," said Chief Justice Cantil-Sakauye.
"Our path to a more just criminal justice system is not complete, but today it made a transformational shift away from valuing private wealth and toward protecting public safety. Thanks to the collaboration of the Governor, Chief Justice, and the Legislature, we are creating a system that is fairer for all Californians. Today's signing is historic, and California will continue to lead the way toward a safer and more equitable system," said Senator Hertzberg.
"Today, California takes a transformational step forward to correct a fundamental injustice. Abolishing money bail and replacing it with a risk-based system will enhance justice and safety. For too long, our system has allowed the wealthy to purchase their freedom regardless of their risk, while the poor who pose no danger languish in jail. No more. Freedom and liberty should never be pay to play," said Assemblymember Bonta.
"Wealth is not the measure of any woman or man. By eliminating cash bail, we are saying that those with the least ability to pay should not be released or incarcerated solely on the basis of their wealth or poverty. SB 10 is only one leg of the long journey toward perfecting our justice system, but it is an important one," said Assembly Speaker Anthony Rendon.
"Money bail has promoted a system of separate and unequal justice. SB 10 puts all Californians on equal footing before the law and makes public safety the only consideration in pre-trial detention. This critical reform is long overdue. I'm grateful to the author and the broad coalition of advocates who worked tirelessly to make it happen," said Senate President pro Tempore Toni Atkins.
For full text of the bill signed today, visit http://leginfo.legislature.ca.gov.
A broad coalition of elected officials, labor groups, probation officers and criminal justice reform advocates support this legislation signed today. Here's what they are saying:
Lieutenant Governor Gavin Newsom: 
"A person's checking account balance should never determine how they are treated under the law. Cash bail criminalizes poverty and with Governor Brown's signature today, California has opened the door to pursue and perfect a just pre-trial system."
Service Employees International Union (SEIU) California Executive Board Member and Local 2015 President Laphonza Butler: 
"Today is a turning point for justice in California, and SEIU members are proud to have helped lead the way in creating a safer state and moving California closer to our vision for restorative justice. By eliminating the discriminatory money bail system that preys on the poor and working people like SEIU members, SB 10 is a significant step forward in our movement for equality and civil rights. Governor Brown, Chief Justice Cantil-Sakauye, Senator Hertzberg, Assemblymember Bonta, and the many organizations who shaped this bill, including the Western Center on Law and Poverty, Californians for Safety and Justice, and Anti-Recidivism Coalition, can all be proud that California has now done more than any state to eliminate money as a factor in deciding who is free and who is incarcerated.  As we celebrate this milestone in our march toward justice, members of SEIU are more energized than ever to keep fighting for equality throughout our criminal justice system. With the momentum we've achieved, we are in a position to press for even more sweeping reforms in the coming years."
Chief Probation Officers of California President Jim Salio: 
"When the historical policy decision was made to remove cash bail from our criminal justice system we knew as experts in the field of risk assessment, public safety and rehabilitation, it was crucial to maintain the balance between public safety and civil rights by utilizing evidence-based risk assessments in the absence of a bail schedule. We believe SB 10 will maximize return to court, maximize public safety and enhance opportunities for low-risk offenders to maintain critical community support."
NextGen America Founder and President Tom Steyer: 
"Today, California made history by ending money bail and took a significant step towards amending the injustice at the heart of our criminal justice system. For decades, the money bail system has created a two-tiered system that prioritizes profit and penalizes poverty, and has been especially detrimental for communities of color. In America, your bank account must not determine your access to justice, and passing SB 10 is an important step towards creating a criminal justice system that is more just and equitable."
Californians for Safety and Justice Founder and Executive Director Lenore Anderson: 
"The signing of SB 10 is historic. California is now the first state in the nation to completely eliminate the predatory commercial bail industry and wealth-based determinations of who is held in jail. Now California can get to work: this is the beginning of building a fair and effective pretrial system on our state."
Western Center on Law and Poverty Policy Advocate Jessica Bartholow: 
"We are proud to have co-sponsored this legislation and grateful for the Governor's signature. With its signature, California will end the unjust and discriminatory practice of denying liberty to someone before their trial because they are too poor to post bail. By enacting SB 10, we will also foreclose on the predatory, for-profit bail industry which has drained resources from overpoliced low-income communities of color and spent hundreds of thousands in political contributions to oppose important criminal justice reforms."
Anti-Recidivism Coalition: 
"The Anti-Recidivism Coalition (ARC) supports SB 10. ARC members know all too well the traumas and difficulties created by spending even a single day in jail as a result of not being able to post bail. SB 10 is an important first step in the right direction towards reforming the current system—a system that has negatively impacted Californians, especially people of color living in impoverished communities. ARC will remain committed to fighting alongside partners to end the cash bail system."
Photo Credit: Ryan Grant, California Department of Tax and Fee Administration. For a high resolution copy of this photo, please contact Danella Debel, Office of the Governor at Danella.Debel@gov.ca.gov.