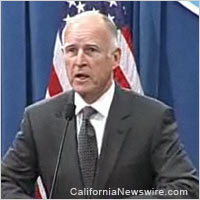 SACRAMENTO, Calif. /California Newswire/ — On Tuesday, Calif. Governor Edmund G. Brown Jr. issued the following statement after the U.S. Supreme Court issued an order blocking enforcement of the Obama Administration's Clean Power Plan:
"As the world gets hotter and closer to irreversible climate change, these justices appear tone-deaf as they fiddle with procedural niceties. This arbitrary roadblock does incalculable damage and undermines America's climate leadership."
He added, "But make no mistake, this won't stop California from continuing to do its part under the Clean Power Plan."
Last November, Governor Brown joined a broad coalition of states and municipalities across the country to defend the Obama Administration's Clean Power Plan. He later blasted West Virginia Attorney General Patrick Morrisey and Texas Attorney General Ken Paxton for "crass obstructionism" following their attempt to undermine the plan.
The Governor also sent a letter to the Republican presidential candidates asking for their plans to deal with climate change and followed with a separate letter to Dr. Ben Carson in response to his comments questioning the science of climate change.