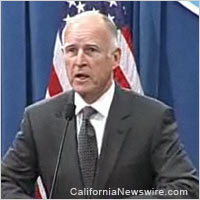 SACRAMENTO, Calif. /California Newswire/ — On Friday, following through on his pledge to streamline state government, Governor Edmund G. Brown Jr. today sent a far-reaching reorganization plan to the Little Hoover Commission that cuts the number of state agencies from 12 to 10, eliminates duplicative and unnecessary entities and consolidates those with similar roles and functions.
"The state's bureaucracy is a labyrinth of disjointed boards, commissions, agencies and departments," said Governor Brown. "This common sense plan makes government more efficient, responsive and coordinated and will ultimately save taxpayer dollars."
Currently, many unrelated departments – like Caltrans, the Department of Managed Healthcare and the Department of Financial Institutions – are housed together, while many related programs are scattered throughout different agencies. In many cases departments and programs are duplicative.
The Governor's plan makes government less costly, more efficient and more sensible through changes, including restructuring the State and Consumer Services and the Business, Transportation, and Housing agencies and other scattered government entities into three agencies with coordinated and consolidated functions:
• The Government Operations Agency – responsible for administering state operations, such as procurement, information technology and human resources;
• The Business and Consumer Services Agency – responsible for licensing and oversight of industries, businesses and other professionals; and
• The Transportation Agency – responsible for addressing the state's transportation needs.
The plan also makes the California Emergency Management Agency a new office that reports directly to the Governor; the California Volunteer Agency a unit within the Governor's Office of Planning and Research; and the Technology Agency a new department under the Government Operations Agency, to be led by a statewide Chief Information Officer.
These changes were detailed in Governor Brown's 2012-13 Budget and are part of a larger effort to make government more efficient. As required by law, the plan was submitted to the Little Hoover Commission, which has 30 days to review the plan and report its recommendations to the Governor and Legislature. After the plan is submitted to the Legislature, lawmakers have 60 days to consider it. The plan goes into effect, and implementation can begin, unless it is rejected by a majority vote of either house during the 60-day period.
Since taking office, Governor Brown has slashed spending in his own office by more than 25 percent and directed state agencies and departments to:
• Reduce their budgets, amounting to hundreds of millions of dollars in savings;
• Cut state cell phones and the passenger vehicle fleet;
• Stop spending taxpayer dollars on free giveaway and gift items;
• Halt all non-essential state employee travel;
• Recover millions of dollars in uncollected salary and travel advances; and
• Eliminate unnecessary legislative reports.
Last year, Governor Brown also:
• Eliminated 20 boards, commissions, task forces, offices, and departments, including the office of the Secretary of Education, California Medical Assistance Commission and the Office of Insurance Advisor;
• Proposed and had approved a merger of the state's personnel agencies to save millions of taxpayer dollars and improve efficiency;
• Restructured CDCR headquarters, saving $30 million;
• Canceled a plan to build a condemned inmate housing facility at San Quentin, saving taxpayers hundreds of millions; and
• Canceled the sale of state properties, saving taxpayers billions.
A copy of the Governor's letter and a summary can be found here. The plan in full can be found here, http://gov.ca.gov/docs/Reorganization_Plan.pdf .