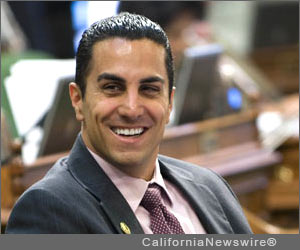 SACRAMENTO, Calif. /California Newswire/ — Calif. Assemblyman Mike Gatto (D-Glendale) continues to innovate the way laws are made in Sacramento by harnessing the power of the Internet to engage all Californians in the legislative process, according to a press release his office issued today. Earlier this year, Gatto invited the public, for a second-year in a row, to help craft legislation in an open bill-writing process on a "wiki-style" website.
This novel approach was most recently adopted by venture capitalist Tim Draper's Fix California initiative to solicit ideas for how to overhaul California government. Gatto asked citizens to weigh in this year on legislation to enhance California's privacy laws, inspired by his new role as the Chairman of the Assembly Committee on Privacy and Consumer Protection.
The resulting bill, AB 83, will require businesses and corporations to enhance all privacy standards for the storage of all personal information, including social security numbers, driver's license numbers, financial information, medical information, and geolocation travel information (such as an individual's Uber trip log). Businesses would also be required to identify reasonably foreseeable internal and external risks to privacy and regularly assess all existing safeguards. The measure passed the Privacy and Consumer Protection Committee by a vote of 8-0.
"In a time when too many consumers and businesses are being forced to react to the aftermaths of various data breaches, AB 83 asks those who hold our personal information to me more proactive with enhancing security," said Gatto. "Consumers need to know that their data is secured and being stored according to the most robust standards. This bill will help California restore consumer trust."
In May 2014, hackers breached a database owned by ride-share app Uber, which contained the names and drivers' license numbers of 50,000 of its drivers. And just last February, 80 million Anthem clients had their names, birthdays, Social Security numbers, addresses, phone numbers, email addresses and employment information stolen. California alone accounts for nearly 20 percent of the data breaches recorded in the United States, with records containing personal data of more than 18.5 million residents being compromised in 2013 alone—more than any other state.
"In today's world of cloud-based data storage, no information is exempt from those wanting to invade our privacy and pry into our personal lives. Consumers shouldn't have to worry about whether their personal information will be compromised simply because they were shopping for a new sofa or clothes at a retail store," continued Gatto.
This is not the first time Gatto has called on Californians to participate in the drafting of laws that will affect them. The Assemblyman initiated a similar "Wiki-bill" project last year which was the first purely "crowdsourced" piece of legislation in the United States. He has been a consistent advocate for using technology as a tool for increasing citizen engagement and hopes that he can show that modern technology can increase democratic participation.
"Too often, legislation is drafted with little or no input from the everyday Californian," said Gatto. "In contrast, 'crowdsourcing' a bill on the Wiki platform allows for a fully transparent brainstorming, drafting, and editing process that incorporates ideas, experiences, and concerns from a large group of people. The collective wisdom of the public determines the final product. "
Mike Gatto is the Chairman of the Consumer Protection and Privacy Committee, and the longest-serving member in the State Assembly. He represents California's 43rd Assembly District, which includes Burbank, Glendale, La Cañada Flintridge, La Crescenta, Montrose, and the Los Angeles neighborhoods of Atwater Village, East Hollywood, Franklin Hills, Hollywood Hills, Los Feliz, and Silver Lake. www.asm.ca.gov/gatto