SAN FERNANDO VALLEY, Calif. /California Newswire/ — Today, Calif. Congressman Cárdenas released the following statement in response to the ongoing dispute between Univision and AT&T.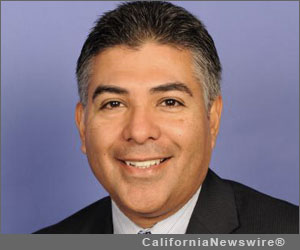 "I feel a responsibility to express my serious concern for the constituents in my district and all over the country whose access to information has been negatively impacted by this dispute. As of 11:59 p.m. last Thursday, U-Verse customers can no longer watch Univision, Unimás, Galavision, Univision Deportes and other Spanish-language program networks.
I strongly urge both parties of the negotiation to quickly and responsibly resolve this situation and come to an agreement in order to ensure the Latino community can continue accessing the content they choose at this pivotal time for our country.
Millions of viewers in the United States choose Spanish-language programming every year, in the same way that Spanish language radio and television were the primary sources of entertainment and information in our home while I was growing up.
This situation highlights how important it is for the individuals and companies that control our media landscape to maintain a commitment to civic responsibility, particularly to the Latino community.
The Latino community has an unprecedented opportunity this year to be a strong and decisive voice in our nation's future. Few things would be more detrimental to this potential than limiting the viewing options for one of the Latino community's most trusted sources of information. It is difficult to overstate the importance of media as a tool to encourage civic engagement and participation, and the importance of a diverse and well-informed public.
The timely resolution of this dispute is an issue of public interest. I hope AT&T and Univision can expeditiously resolve this dispute in the best interests of the Latino community."
***
Martes, 8 de marzo, 2016
En Espanol
Declaraciones de Cárdenas sobre efecto de disputa AT&T – Univision
(Valle de San Fernando, CA) – Hoy, el Congresista Cárdenas emitió el siguiente comunicado respondiendo a la disputa entre Univision y AT&T.
"Siento el deber de expresar mi seria preocupación por los constituyentes en mi distrito y en todo el país cuyo acceso a información ha sido impactado de forma negativa por esta disputa. Desde las 11:59 p.m. del pasado jueves, los clientes de U-Verse no pueden ver Univision, Unimás, Galavision, Univision Deportes y otras cadenas de programación en español.
Insisto que ambas partes de la negociación resuelvan de forma rápida y responsable esta situación y lleguen a un acuerdo para asegurar que la comunidad Latina pueda seguir accediendo al contenido que elijan en esta época decisiva para nuestro país.
Millones de espectadores en los Estados Unidos eligen programación en español todos los años, de la misma forma que radio y televisión en español fueron las fuentes primarias de entretenimiento e información en nuestro hogar cuando era pequeño.
Esta situación ilustra lo importante que es que los individuos y compañías que controlan nuestro panorama mediático mantengan un compromiso a la responsabilidad cívica, en especial para la comunidad Latina.
La comunidad Latina tiene una oportunidad sin precedentes este año de ser una voz fuerte y decisiva en el futuro de nuestra nación. Pocas cosas causarían más daño a este potencial que limitar la visibilidad de una de las fuentes de información en las que más confía la comunidad Latina. Es difícil exagerar la importancia de los medios como herramienta de fomentar participación cívica, y la importancia de un público diverso e informado.
La resolución puntual de esta disputa es cuestión de interés público. Espero que AT&T y Univision puedan resolver sin demora esta disputa en beneficio de la comunidad Latina."