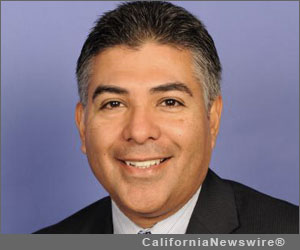 SAN FERNANDO, Calif. /California Newswire/ — To recognize Hispanic Heritage Month, U.S. Rep. Tony Cárdenas (D-San Fernando Valley) today joined U.S. Sen. Robert Menendez (D-NJ) in introducing commemorative resolutions in the U.S. House and Senate.
Each year, the President designates September 15th to October 15th as Hispanic Heritage Month, celebrating the heritage and culture of Latinos in the United States and the immense contributions of Latinos to our nation. Latinos currently comprise 17 percent of the population, a number expected to grow to more than 30 percent by 2060.
"Latinos have enriched American life, through contributions in business, the military, education, philanthropy, government and the arts," said Cárdenas. "On behalf of my parents, who traveled to this country from Mexico with elementary school educations but raised a family of doctors, lawyers, businesspeople and even a Congressman, I am honored to introduce this resolution into the People's House."
The resolution discusses important economic impacts made by Latinos, spotlighting more than 3.2 million Hispanic-owned firms in the United States, supporting millions of employees and contributing more than $468 billion in revenue to the economy. Hispanic-owned companies represent the fastest-growing segment of small businesses in the United States, with Latino entrepreneurs starting businesses at more than twice the national rate.
Hispanic Americans also serve in all branches of the military and have bravely fought in every war in the history of the United States. As of July 31, 163,636 Hispanic active duty service members served with distinction in the military.
61 Hispanic Americans have received the Congressional Medal of Honor, the highest award for valor in action against an enemy force that can be bestowed on an individual serving in the Armed Forces of the United States.
Democrats, including Cárdenas, continue fighting for bold, concrete initiatives to jump-start the middle class and those working to get into the middle class, including millions of Hispanic families. This includes rebuilding America's infrastructure, making higher education more affordable, increasing the minimum wage and ensuring equal pay for equal work for women, including Latinas who make 55 cents for every dollar earned by a man.