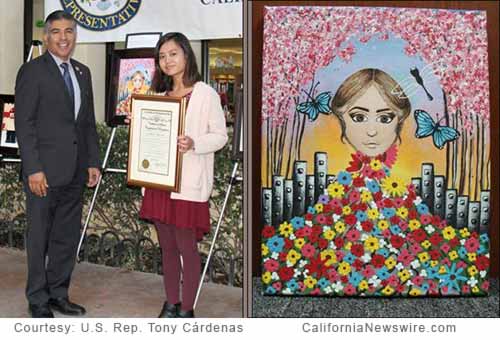 PANORAMA CITY, Calif. /California Newswire/ — U.S. Rep. Tony Cárdenas (D-San Fernando Valley, Calif.) on Tuesday announced the winner of the 29th Congressional District Art Contest for 2015. Kristina Andrada from Panorama City, who attends the Valley Academy of Arts and Sciences, took first prize at the first annual Congressional Art Show held last week. Her piece, Flower Girl, is an acrylic painting.
Kristina and her family will visit Washington, DC, to see her artwork on display at the U.S. Capitol.
"I am proud to represent an incredibly diverse, talented part of our nation," said Cárdenas. "That diversity provided an amazing representation of the art being made every day in our schools. I want to thank every student who participated in this journey, and their families. Art is not simply a reflection of who we are, but it is also a tool that we use to build our minds. An education in the arts leads to success in other subjects, and I hope this competition reminds students, teachers and parents how important that education can be."
Each spring, a nation-wide high school arts competition is sponsored by the Members of the U.S. House of Representatives. The Artistic Discovery Contest is an opportunity to recognize and encourage the artistic talent in the nation, as well as in our congressional district.
The Artistic Discovery Contest is open to all high school students in the 29th District. The over-all winner of our district competition is displayed for one year in the U.S. Capitol. The exhibit in Washington will also include artwork from other contest winners nationwide.
The Congressional Art Competition began in 1982 to provide an opportunity for members of Congress to encourage and recognize the artistic talents of their young constituents. Since then, over 650,000 high school students have been involved with the nationwide competition.