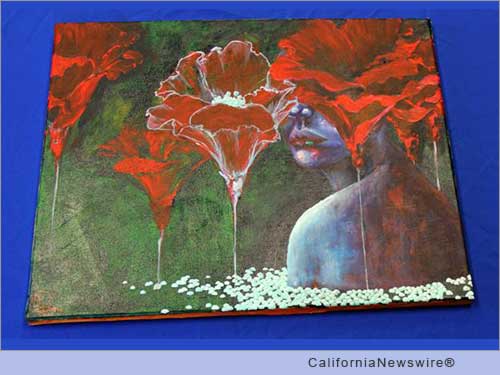 SUN VALLEY, Calif. and WASHINGTON, D.C. /California Newswire/ — U.S. Rep. Tony Cárdenas (D-San Fernando Valley) is proud to announce the winner of the 29th Congressional District Art Contest. Angaea Gale V. Cuna, a senior from Sun Valley, who attends Valley Academy of Arts and Sciences, is the winning artist. The winning piece of art, an acrylic painting named, "Garden State of Mind" will now hang in the United States Capitol for a year.
Each spring, a nation-wide high school arts competition is sponsored by the members of the U.S. House of Representatives. The Artistic Discovery Contest is an opportunity to recognize and encourage artistic talent in the nation, as well as in our congressional district.
This year's contest theme is "Community Peace."
"The art being created throughout the schools in the Valley is tremendous," said Cárdenas. "As the proud father of four children whose lives have been consistently impacted by the arts, it gives me great pride to recognize a budding artist in my District. I look forward to welcoming Angaea to Washington, DC and to looking at her artwork each time I walk to the Capitol to cast a vote."
The Artistic Discovery Contest is open to all high school students in the 29th District. The exhibit in Washington will also include artwork from other contest winners nation-wide.
The Congressional Art Competition began in 1982 to provide an opportunity for members of Congress to encourage and recognize the artistic talents of their young constituents. Since then, over 650,000 high school students have been involved with the nationwide competition.