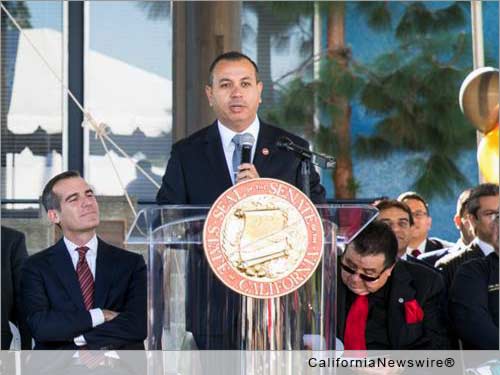 SACRAMENTO, Calif. /California Newswire/ — A bill to restore public trust and accountability in government by strengthening California's conflict of interest laws was approved this week by the State Senate on a unanimous bipartisan vote of 37 to 0. SB 330 authored by Senator Tony Mendoza (D-Artesia), would define what family relationships would constitute a financial conflict interest for a public official in voting on public contracts before any governmental body, board or commission of which that public officer is a member. The bill now goes to the State Assembly for consideration.
"I want to make sure that elected and government officials abstain from voting when a family member has a financial interest or may benefit in the outcome of a public contract decision under the jurisdiction of that official," said Senator Tony Mendoza.
"In the wake of scandals over the past several years, I believe it is time for California to strengthen its conflict of interest laws. We need to restore accountability and the public's trust in government," added Senator Mendoza.
Specifically, SB 330 would amend the Government Code to define when a public official is deemed to have a financial interest in a public contract to include situations where the public officer's spouse, child, parent, sibling or the spouse of the child, parent, or sibling has a financial interest in any contract under consideration in his or her official capacity. Under current law, any public official who has a direct or indirect financial conflict of interest must disqualify themselves from voting or participating in decisions related to that contract.
"Government officials should be prevented from using their positions to enrich themselves financially, directly or indirectly," said Senator Mendoza. "As public officials, we should be held to high ethical standards to avoid any conflict of interests or perception of impropriety when trusted by the public to conduct business on their behalf. If other states in our nation and private corporations already provide this level of protection against self-dealing, Californian's deserve no less."
A violation of the law will result in disqualification from ever holding any office in California, prison time and or a fine of not more than $1000. A local district attorney or the California Attorney General would have the authority to investigate alleged violations of the law and the discretion to pursue criminal prosecution.
If they decide not to pursue a criminal prosecution, they can turn the case over to the Fair Political Practices Commission for an administrative or civil action. This enforcement process is set forth in current law, which the bill does not change. The law would go into effect on January 1, 2017.
In other states, conflict of interest laws go beyond restricting financial dealings to the public officeholder's immediate family and covers those close enough to cause the individual's loyalty to be divided. For example, Arizona's conflict of interest law goes beyond the individual and his immediate family and the District of Columbia covers members of the public office holder's household, regardless of family ties.
Conflict of interest is governed by the California Government Code and the Political Reform Act. In general, the laws are intended to prevent public officials from using their governmental positions to enrich themselves financially.
For more information on what other states conflict of interest laws cover, please visit the National Conference of State Legislatures' website: http://www.ncsl.org/research/ethics/conflict-of-interest-overview.aspx
Senator Tony Mendoza, a Los Angeles native and former elementary school teacher in East Los Angeles, represents the 32nd Senate District encompassing portions of Los Angeles and Orange Counties. For more information about Senator Mendoza visit his website – http://sd32.senate.ca.gov/node/4