SACRAMENTO, Calif. /California Newswire/ — On Wednesday, Calif. Assemblymember Al Muratsuchi (D-Torrance) presented Assembly Concurrent Resolution (ACR) 85 on the Assembly Floor, calling on California to commemorate February 19, 2014 as an official "Day of Remembrance" in honor of the hundreds of thousands of Japanese Americans who were discriminatorily incarcerated during World War II.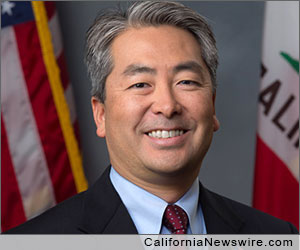 72 years ago, President Franklin D. Roosevelt signed Executive Order 9066, leading to the imprisonment of over 100,000 Americans and legal residents for the sole reason that they were of Japanese ancestry. Without any evidence of military necessity, over a hundred thousand Japanese Americans were forced from their homes and placed into internment camps.
Despite this injustice 33,000 men of Japanese descent volunteered to fight for our country on the battlefields of Europe and the Pacific. To fight for the freedom that was being denied to their loved ones, to prove their loyalty to our nation.
California State Assemblymember Al Muratsuchi authored ACR 85 as a solemn reminder of those who suffered unspeakable persecution and the importance of protecting freedom for every man, woman and child on American soil.
"A measure of justice was achieved when, in 1988, President Ronald Reagan issued an official apology on behalf of our nation for this tragic episode in American history," said Assemblymember Muratsuchi. "However, it is critical that we never forget the victims of this tragic time, and just as important that we never repeat the mistakes of our past."
Following the Assemblymember's presentation, ACR 85 was adopted unanimously, establishing February 19, 2014 as California's "Day of Remembrance."
To view the Assemblymember's presentation of ACR 85 on the Assembly Floor, please click here:

Assemblymember Muratsuchi represents the 66th Assembly District, which includes the cities of Gardena, Hermosa Beach, Lomita, the Los Angeles communities of Harbor City and Harbor Gateway, Manhattan Beach, Palos Verdes Estates, Rancho Palos Verdes, Redondo Beach, Rolling Hills, Rolling Hills Estates, Torrance and the unincorporated communities of El Camino Village and West Carson.
Please visit the Assemblymember's website, http://asmdc.org/members/a66/ for more information.