SACRAMENTO, Calif. /California Newswire/ — Calif. Assemblymember Kevin McCarty (D-Sacramento) released the following statement on his commitment to end sexual harassment in the California Legislature. As the State Assembly looks into ways to further protect workers from sexual harassment and abuse, Assemblymember McCarty has offered a number of reforms to increase accountability of elected officials and prevent sexual harassment in the workplace.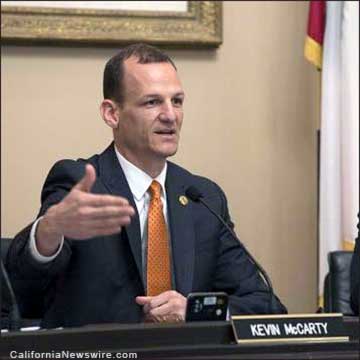 "The California State Assembly should look at the taxpayer funded payouts for sexual harassment — and explore holding perpetrators of sexual harassment more financially accountable. Why should taxpayers be on the hook for sexual harassment payouts, while wrongdoers walk away with no financial accountability? The State Assembly and the Joint Rules Committee should consider ways to recover financial damages from proven violators directly."
"We must strengthen its policies to prevent and address sexual harassment at the State Capitol. A true zero-tolerance workplace free of sexual harassment and sexual assault should embrace whistleblower protections, a whistleblower hotline and independent, third-party investigations."
"I will be working closely with the Legislative Women's Caucus and all of my colleagues to keep employees and the public safe from sexual harassment, protect taxpayers, and hold violators financially responsible for their actions."
The Assembly Rules Subcommittee on Harassment, Discrimination, and Retaliation Prevention and Response Informational Hearing can be viewed here: http://www.calchannel.com/live-webcast/
# # #
Kevin McCarty represents California's 7th Assembly District, which include the cities of Sacramento, West Sacramento and unincorporated Sacramento County. McCarty serves as Chair of the Assembly Budget Subcommittee on Education Finance.