SACRAMENTO, Calif. /California Newswire/ — Calif. Assemblymember Kevin McCarty's (D –Sacramento) efforts to diversify and increase the number of credentialed K-12 teachers in California received a multi-million dollar boost when the California Commission on Teacher Credentialing recently awarded $20 million (twenty million dollars) in grants to help 1,000 classified school employees become credentialed teachers.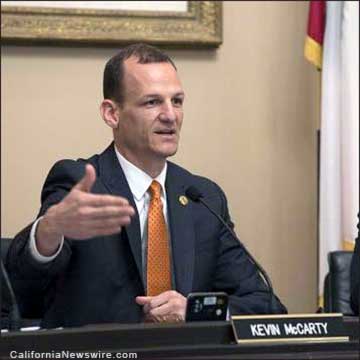 McCarty, who serves as Chair of the Assembly Budget Subcommittee on Education Finance, authored AB 2122 (McCarty) in 2016 to establish the program and provide an important career pipeline for school support staff looking to earn a bachelor's degree and teaching credential. Under the program, up to 1,000 school employees from 25 school districts across the state will receive a $4,000 (four thousand dollar) annual grant for up to five years to complete their degree and teaching credential. Awarded employees will be required to continue working for the school district administering the grant in order to maintain grant eligibility.
McCarty's legislative accomplishment is his latest in a career of public service dedicated to expanding early childhood education, improving educational outcomes for disadvantaged students, enhancing career technical education programs and increasing access to higher education, especially within the CSU and UC systems.
"The California Classified School Employee Teacher Credentialing Program will help to address our state's continued teacher shortage, provide a career ladder for classified employees and further diversify the K-12 educator workforce," said Assemblymember McCarty. "With growing demand for qualified teachers in STEM (science, technology, engineering and math) fields, special education and bilingual education, these grants will help communities throughout California to develop the next generation of educators needed for our students to compete in the growing global economy."
For more information on the California Classified School Employee Teacher Credentialing Program and awarded school districts, please visit: http://www.ctc.ca.gov/files/RFP-classified-2016-09.pdf and http://www.ctc.ca.gov/files/2016-11-funding-rec-classified.pdf.
Kevin McCarty represents California's 7th Assembly District, which include the cities and communities of Antelope, Elverta, North Highlands, Rio Linda, Sacramento and West Sacramento. http://asmdc.org/members/a07/